Lemon Cupcakes with Raspberry Lemon Cream Cheese Frosting is a light, lemony cake that's not too oily and not too dry. Smother your lemon cupcake with Raspberry Lemon Cream Cheese Frosting that slightly tart, sweet and smooth. This cupcake recipe is a winning combination of flavors.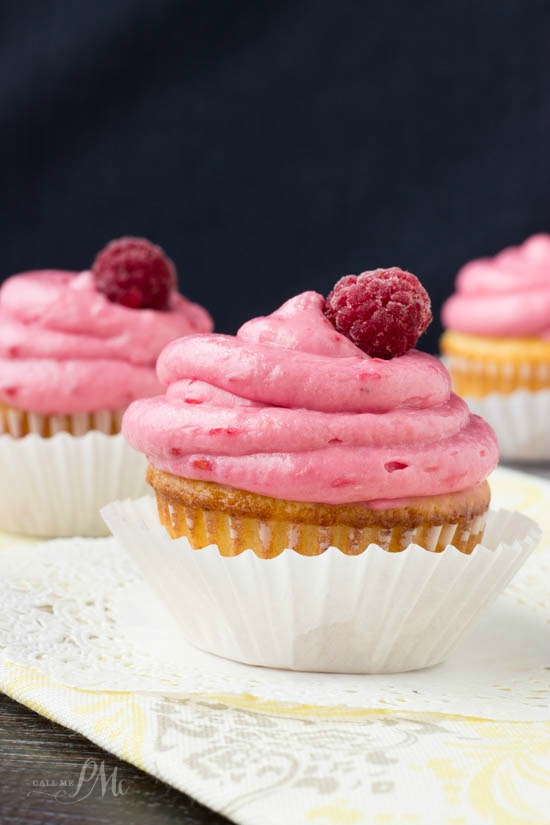 As I was cleaning the kitchen after cooking for the boys for the 150th time in-one-day-because-it's-summer-vacation-and-they-eat-all-the-time, they were having one of their random conversations that may range anywhere from "Would you rather…" to "Did you know….". This time it was "What would you wish for if you had three wishes?" My list would go something like never have to clean the kitchen again, that everyone in my family be healthy and safe and maybe something like have our house paid off or maybe have a beach vacation house. Lincoln's list started out 1. have a quintillion dollars (is that even a number? Good idea and why didn't I think of that?!) 2. have a huge house (does know he'll have to clean it? and heat it? and cool it?) and 3. have all his favorite pizza restaurants across the street from his house. Cute, funny and totally a kid thing!
 But, maybe I should take a lesson from him and not be so level-headed. Right? Take a risk, be crazy, be spontaneous, wish for something random… I'm going to work on that!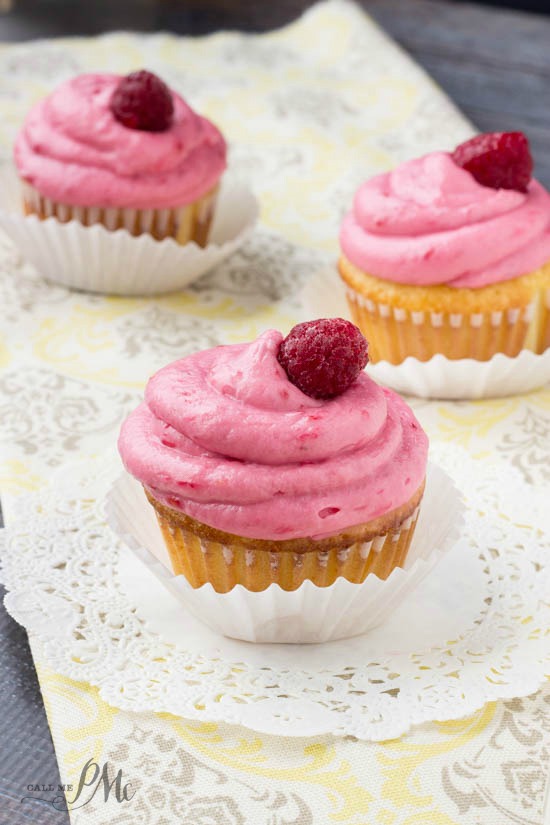 Also, of note, I did get to make Lemon Cupcakes with Raspberry Lemon Cream Cheese Frosting between cooking for the boys and cleaning the kitchen!!
What's funny about these cupcakes is I had them all to myself. Do you see that beautiful pink frosting? Well, that's a total "No Go" for 10 and 13-year-old boys. Pink. They wouldn't touch pink cupcakes. I, happily, had no problem with it!
Lemon Cupcakes with Raspberry Lemon Cream Cheese Frosting have a wonderful lemony cake bottom and are topped with cream cheese frosting swirled with raspberries and lemon.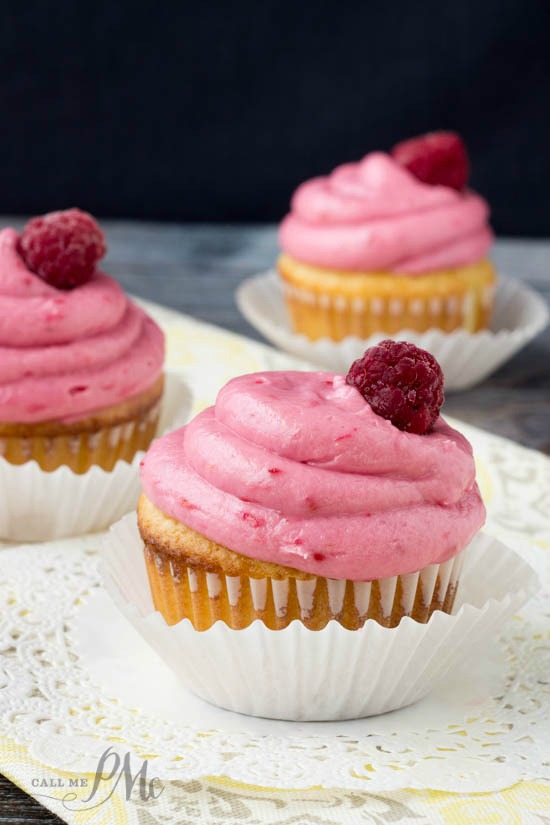 Be sure to sign up for my weekly email newsletter for all the latest recipes!
[wysija_form id="1″]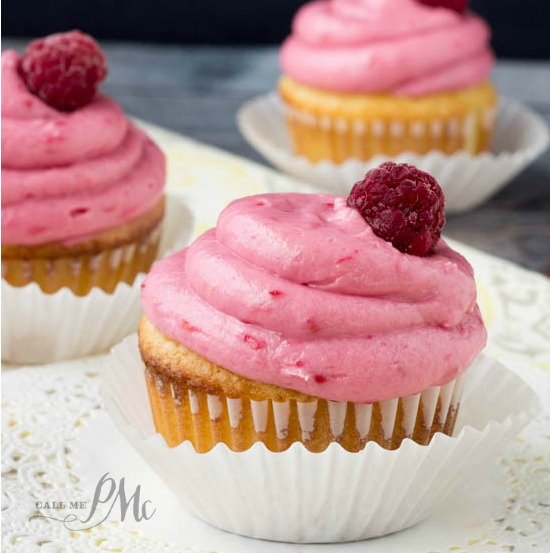 Lemon Cupcakes with Raspberry Lemon Cream Cheese Frosting
When baking it's super important to measure your flour correctly. Read this post on how to correctly measure flour.
The easiest way to fill cupcakes is to use a spring-release scoop, an ice cream scoop. A standard size ice cream scoop will fill a standard muffin tin perfect.
The 'perfect' amount to fill your muffin tin is 1/2 to 2/3 full. Your bake time will be from 18 to 22 minutes at 350 degrees. Start watching them a the lowest recommended time.
I prefer to use cupcake liners versus not using them. Obviously for easier clean up, but I think they look better especially if you're entertaining. Also, liners help keep the cupcakes moist.
If you use foil liners, remove the paper liners before filling. The paper liners are included to help separate the foil liners. They are too thin to use alone as well.
If you choose not to use liners, spray the pan cavities with non-stick spray or with solid vegetable shortening and flour for easier release.
Your frosting needs to be stiff and able to hold its shape. To test, when you're mixing, take a spatula and pull it through the frosting to form some stiff peaks if the peaks hold without falling over, the frosting is thick enough to pipe. If the frosting doesn't hold, it's too thin. To fix too-thin frosting add more powdered sugar a 1 to 2 tablespoons at a time.
To frost cupcakes, point the tip of the pastry bag to the outer edge. Apply even pressure to the bag with one hand while using the other hand to keep the top of the pastry bag tightly twisted. The more pressure you put on the bag, the more frosting that will come out resulting in a thick, tall layer of frosting. Move in a circle around the outer edges and work your way to the center of the cupcake, releasing pressure gently when you reach the center to leave a nice frosting peak.
I used a Wilton 1A size decorator's tip to frost my Lemon Cupcakes with Raspberry Lemon Cream Cheese Frosting.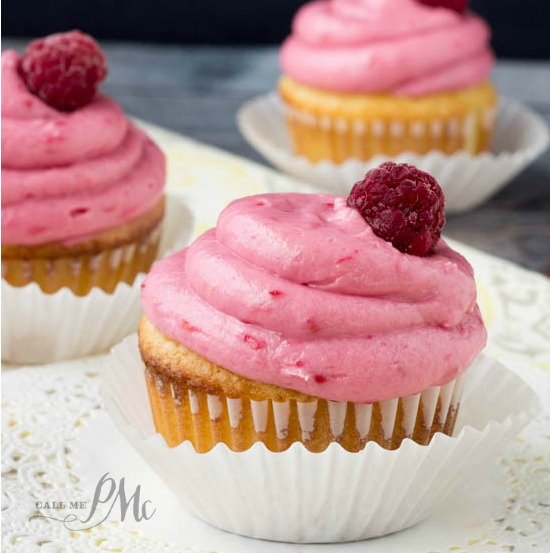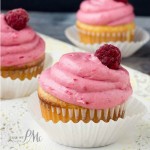 Print Recipe
Lemon Cupcakes with Raspberry Lemon Cream Cheese Frosting
Lemon Cupcakes with Raspberry Lemon Cream Cheese Frosting- a light lemony cake smothered with Raspberry Lemon Frosting that is slightly tart & sweet.
Ingredients
CUPCAKE

3/4

cup

vegetable oil

can use liquid state coconut oil

2

cup

granulated sugar

4

eggs

3

ounce

lemon flavored gelatin mix*

3

cup

all purpose flour

1

teaspoon

baking powder

1/2

teaspoon

salt

1/4

cup

fresh squeezed fresh lemon

3/4

cup

buttermilk

1

teaspoon

vanilla extract

1

teaspoon

lemon extract

FROSTING

8

ounces

cream cheese

soft at room temperature

5

tablespoons

butter

softened

2

tablespoons

vanilla extract

3

+ cups powdered sugar

6

ounce

fresh raspberries

pureed

1

tablespoon

lemon zest

about one lemon
Instructions
Spray 15 regular size muffin crevices with non-stick spray or line with cupcake liners.

Preheat oven to 350 degrees F

Cream vegetable oil and granulated sugar until light in color and fluffy

Add eggs one at a time, beating after each addition

In

bowl

, mix gelatin, flour, baking powder and salt

Add the flour mixture and buttermilk mixture alternately beginning and ending with flour mixture

Mix 2 minutes

Using a spring release scoop, fill the cupcake liners 1/3 full

Bake at 350 degrees for 20 to 22 minutes. Test cupcakes with a wooden pick. If there are no crumbs or dry crumbs on the pick, the cupcake is cooked.

When cupcakes are cooled completely, frost with Raspberry Lemon Cream Cheese Frosting.

FROSTING

While cupcakes are cooling, make frosting. Using a mixer beat together cream cheese, butter, and

vanilla

. Gradually add powdered sugar. Fold in raspberry puree and lemon zest. When cupcakes are completely cool, frost. Store in refrigerator.
Notes
*You'll use just the dry mix of gelatin* Depending on how juicy the berries are will determine the amount of powdered sugar. Add enough so that the frosting is spreadable but will hold it's shape when piped onto the cupcakes. I usually add 2 cups of powdered sugar then add 1/4 cup at a time until I get the consistancy I want. ©CallMePMc.com All images & content are copyright protected. Please do not use my images without prior permission. If you want to republish this recipe, please re-write the recipe in your own words, or link back to this post for the recipe.
 If you like these Lemon Cupcakes with Raspberry Lemon Cream Cheese Frosting, you may also enjoy these
See my recipe collections on Parade's community table here.
and for my Pound Cake Review series check here.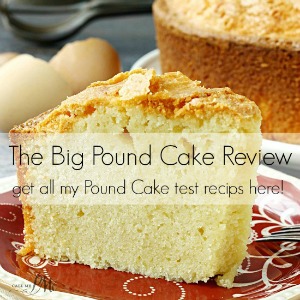 Also, I've made these cupcakes
How to make lemon mini cupcakes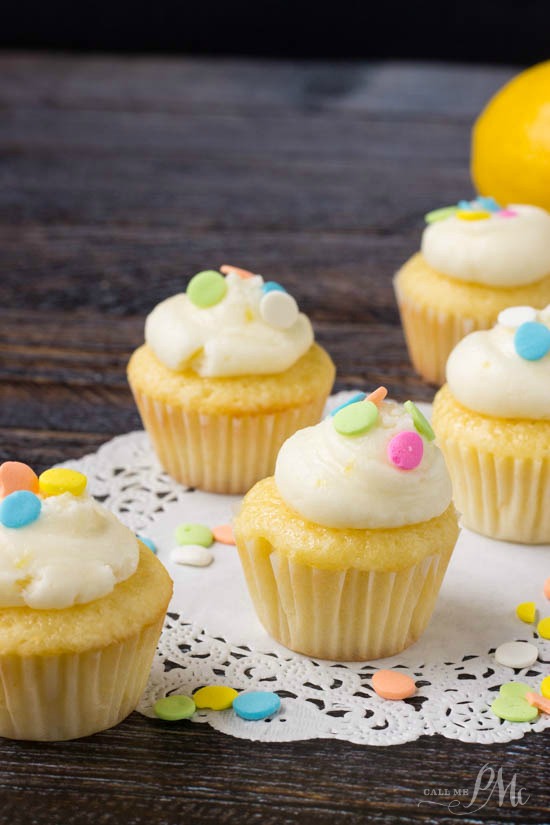 Oreo Frosting Chocolate Cupcakes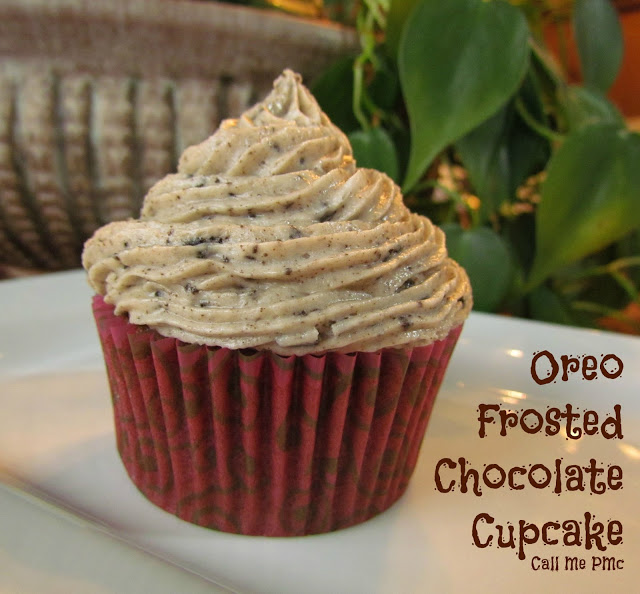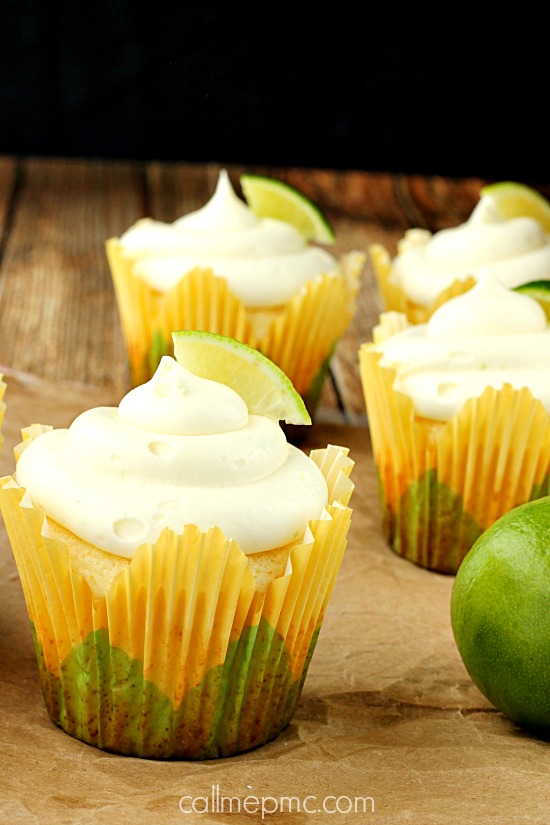 One of my most popular recipes is this Pecan Pie Bread Pudding!