Bananas, bathed in a rich caramel sauce over a unique bread kicks up this Peanut
Butter
Bread Bananas Foster.
For my series on Elvis Presley birthplace, I wanted to do a dish inspired by his love of the
peanut
butter
and banana sandwich.
I then made a traditional Bananas Foster, spooned it over the amazing
It is amazeballs!!
Peanut Butter Bread Bananas Foster!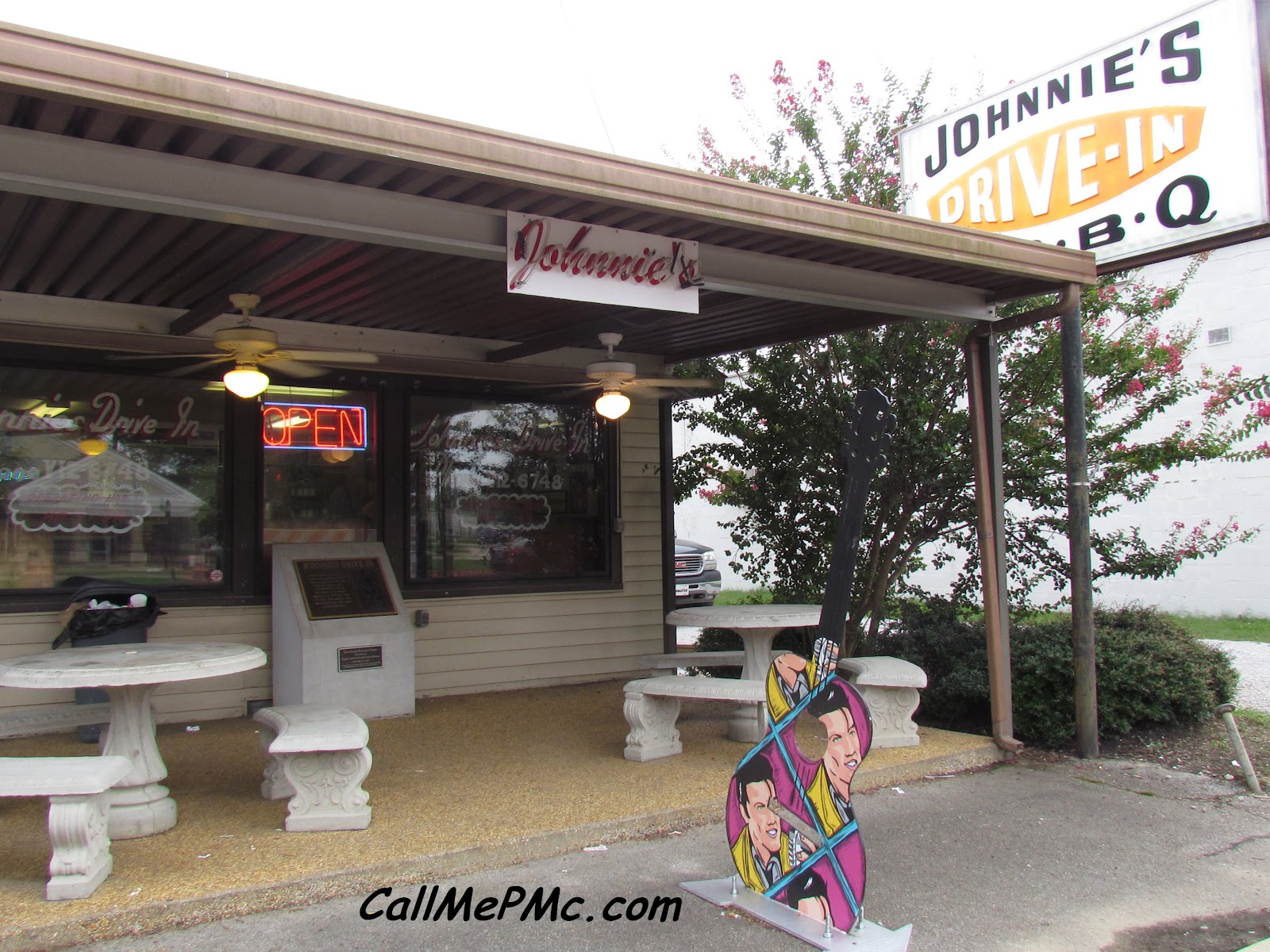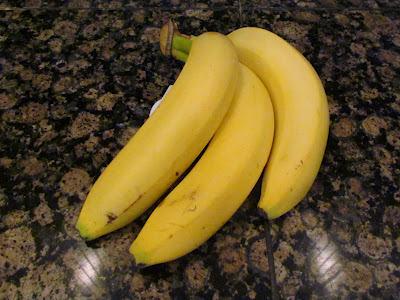 This is the bananas on the first day I bought them. They are slightly under-ripe.
Under-ripe bananas are not good for this recipe; they'll be tough and have a 'chalky' taste.
(Over-ripe bananas are not good in this recipe either, they will be too mushy and fall apart.
 Like Goldilocks, bananas have to be just right for Bananas Foster!)
*You can speed the ripening process by placing them in a brown paper bag.
For ripe bananas that you are not ready to use yet, place in the refrigerator,
the skins will darken but the fruit will not ripen any further.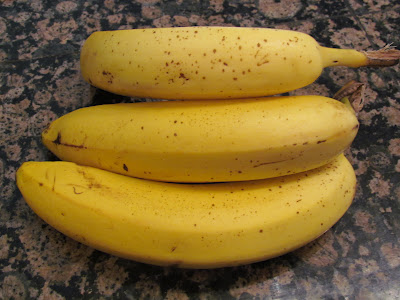 These bananas are just right! They have slightly speckled skins.
The fruit will be tender and sweet.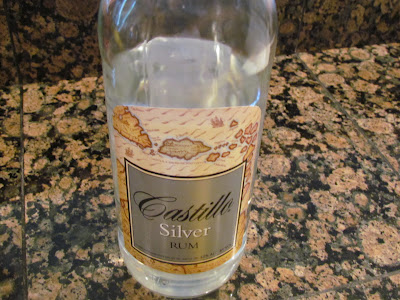 You will need rum!.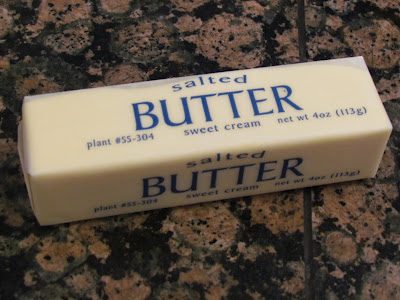 and butter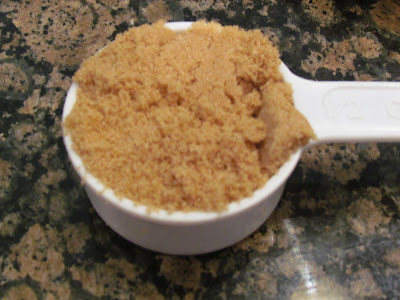 and brown sugar.
One important tip for making this recipe. Have all your ingredients (and serving dishes) ready
before you start. Once your start cooking the butter and sugar things move very quickly
and you can easily cook the brown sugar too long.
If you plan to serve it with ice cream, scoop it out and have it ready and waiting
in the freezer.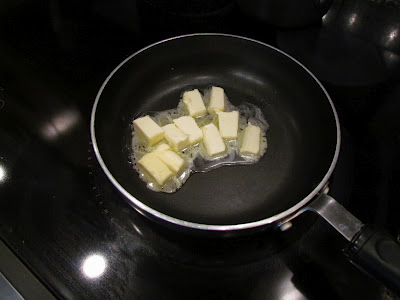 Melt butter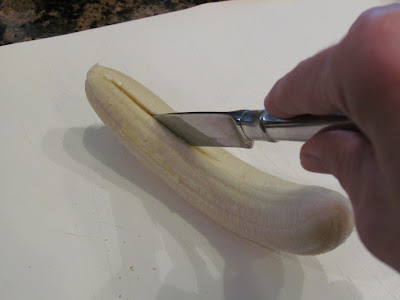 Have the bananas sliced before you start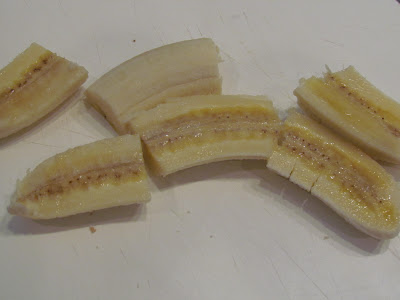 I like them this size.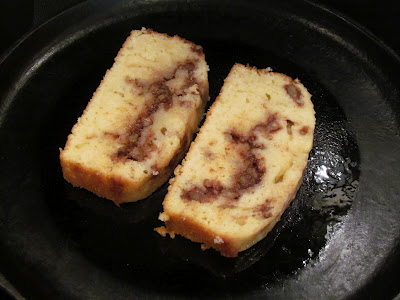 Toast the Peanut Butter Bread as you begin melting the butter.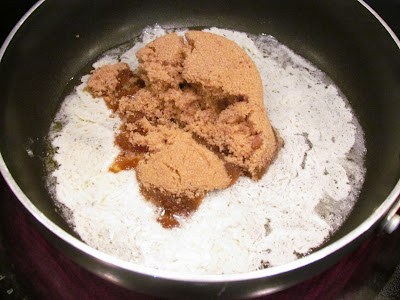 Add brown sugar to melted butter on med heat. Stir and watch carefully.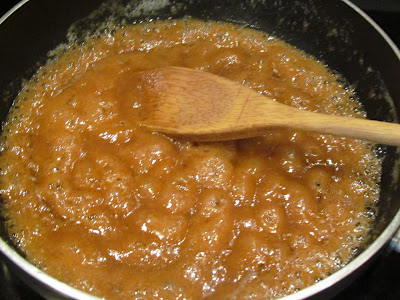 Cook for 2 minutes, stirring constantly
If you over-cook this mixture, you'll have brickle, or toffee, or a hard slab of burnt yuckiness!!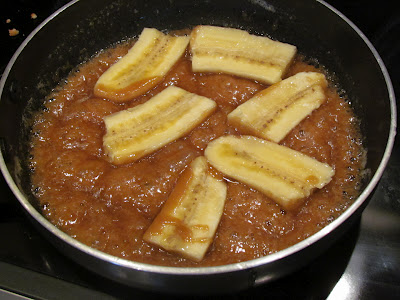 Add the bananas to the mixture and remove from heat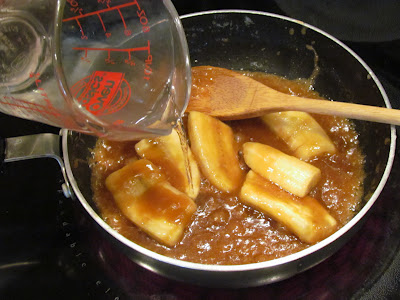 Carefully add the rum (away from any heat source)
ignite with along lighter or long match and let flames die.
I wish I had been videoing this portion for you, very entertaining, I'm sure!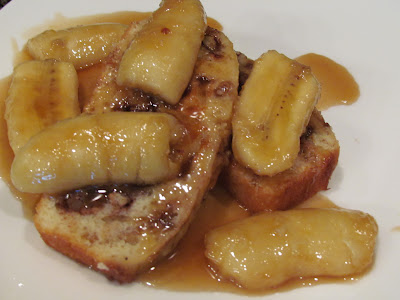 Plate and serve immediately!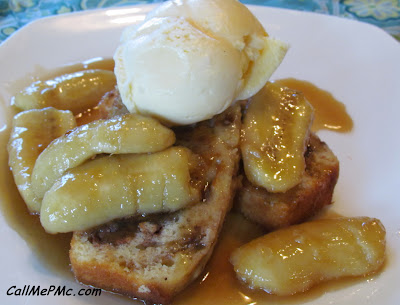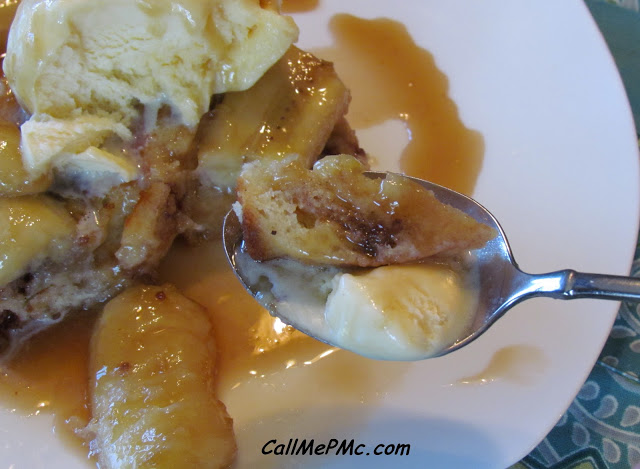 See other Elvis Presley inspired recipes
here
.
Peanut Butter Bread Bananas Foster (Serves 6 to 8), you'll need one loaf Peanut Butter Bread (this bread is not very sweet, almost like coffee cake, good for breakfast)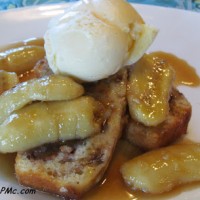 Print Recipe
Peanut Butter Bread Bananas Foster
Bananas are cooked and bathed in a rich caramel sauce and smothers a unique bread.
Ingredients
One loaf Peanut Butter Bread

this bread is not very sweet, almost like coffee cake, good for breakfast

4

medium size ripe bananas

1/2

c

butter

1

c

firmly packed brown sugar

1/2

c

rum

vanilla ice cream

optional, but good
Instructions
Cut bananas in half crosswise and lengthwise. Melt butter in skillet over medium heat. Add brown sugar and cook, stirring constantly, 2 minutes. Add bananas to skillet and remove from heat. Stir in rum and carefully ignite with a long match or lighter. Let the flames cook off and die down. Return skillet to heat and cook 3 to 4 minutes or until bananas are soft. Remove from heat. Pour over plated Peanut Butter Bread. Serve immediately with ice cream. Enjoy!!
Notes
You favorite sweet bread or store bought bread can be substituted for bread.©CallMePMc.com All images & content are copyright protected. Please do not use my images without prior permission. If you want to republish this recipe, please re-write the recipe in your own words, or link back to this post for the recipe.