Rolo Cheesecake Recipe is a silky smooth, creamy cheesecake studded with caramel-filled chocolate candies and topped with chocolate and caramel sauce. It's the ultimate dessert experience.
Don't you want to reach in your computer for a piece of this Rolo Cheesecake recipe?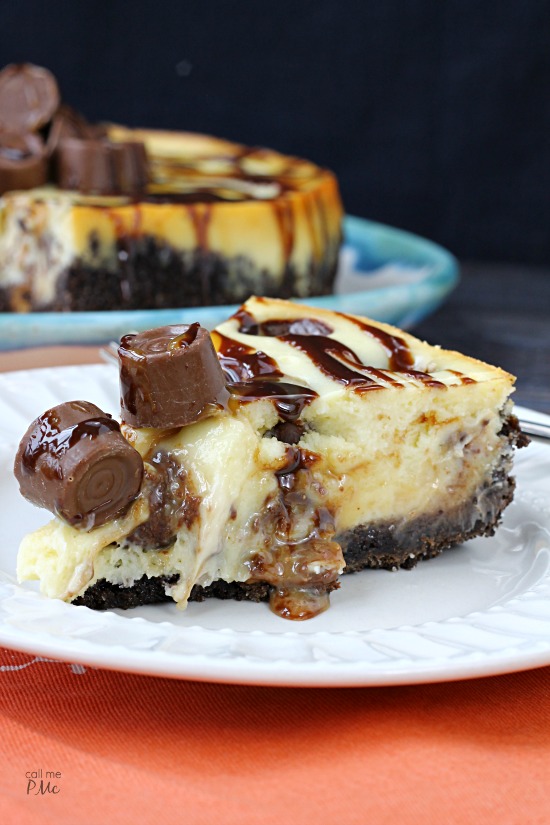 I've been dreaming about this Rolo Cheesecake Recipe for a while now. One thing or the other came up and I haven't been able to make it until now. I decided instead of eating all of it myself, I did have a Charity Ball dress to get into after all, that I'd make it for a friend of mine.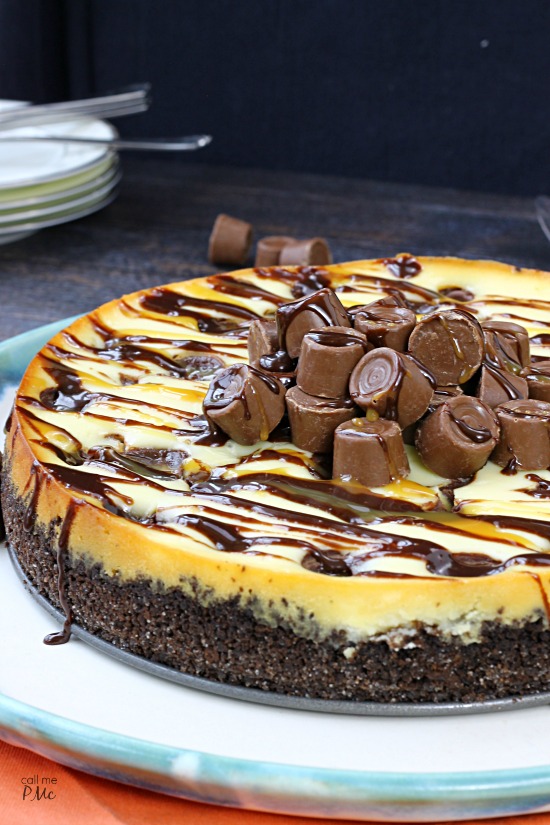 I just have to giggle and apologize when I take food to friends. Usually when you give someone a food gift there's not a slice missing out of it… that is, unless you're a food blogger. It's what we do. We photograph the cheesecake at every possible angle, cut a slice, photograph the slice at every possible angle, eat the slice then take the item to a friend. So I explain, 'look, I cut a slice for pictures, it's really good, I hope you enjoy it.' 🙂
Weird?
More food blogging randomness…
Our families eat cold food. Yes, we photograph it while it's hot and, it's just no longer hot by the time we finish. When I first started callmepmc.com Ryder would ask, "Mommie, why are you taking pictures of food?" Now, before he eats anything at our house he asks, "Have you photographed this yet?"
I really waste a lot of ingredients that I use as props – glass of milk, crushed cookies for crumbs, cut up slices of fruit, chopped nuts.
That bite you see out of the cookie, yeah, we don't take that bite. You're not seeing our teeth marks. We use either a fluted biscuit cutter or a fork.
Chances are, that awesome rustic table that appears in my photographs is just a 2 foot by 2 foot vinyl mat.
We stand on chairs and tables to get that overhead shot.
It's a crazy, fun, unusual business.
And, I love it.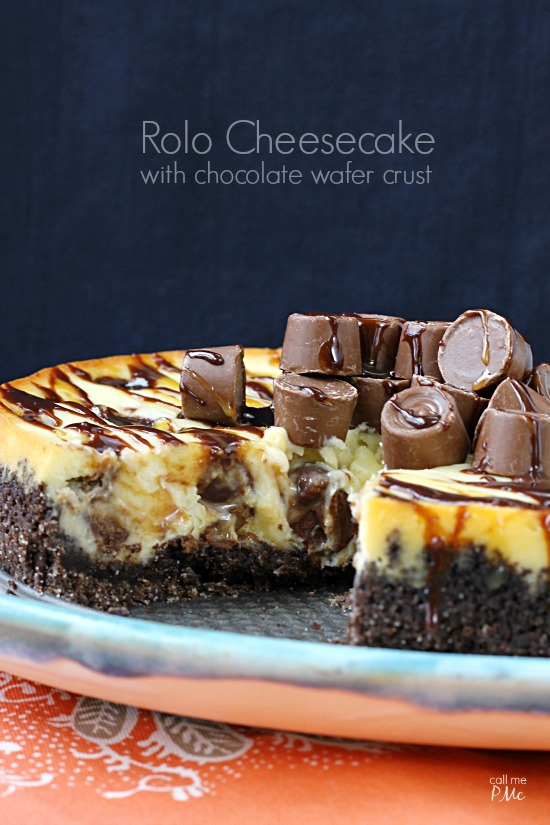 Rolo Cheesecake Recipe
I know you popped over for this Rolo Cheesecake Recipe. It's a simple cheesecake recipe, actually. I made a few changes to my Traditional Cheesecake.
If you're not familiar with making cheesecake, I suggest reading my post, How to Bake the Perfect Cheesecake. And, if you follow all my suggestions and for some random reason it doesn't turn out perfect, it really is okay. Sometimes, my cheesecake will have a tiny crack in the center and I make them the same every time. If this happens to you, pour chocolate, caramel or a fruit sauce over it, or top it with candy or cut fresh fruit to hide the crack.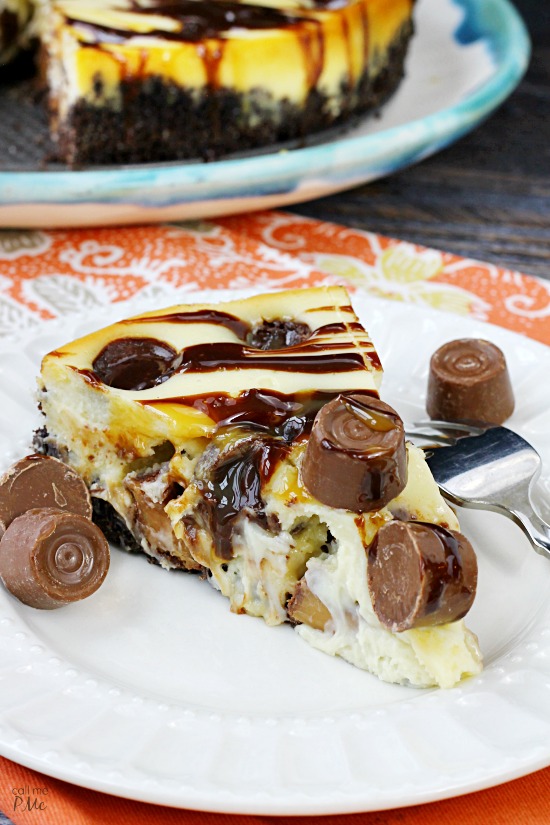 My Rolo Cheesecake Recipe is creamy and soft contrasting with the crunchy chocolate crust. I really like the mix of textures in cheesecake. It's also full of Rolo chocolate candies and I dressed it up even more by garnishing it with store-bought chocolate and caramel sauce. You can make caramel sauce easily with this recipe or this recipe.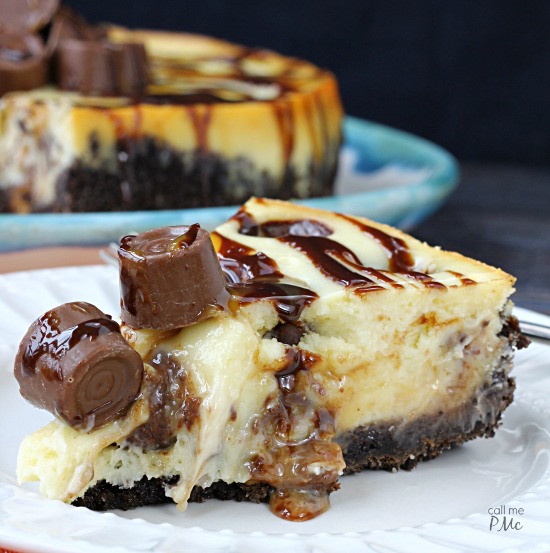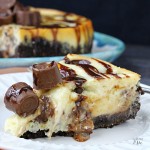 Print Recipe
Rolo Cheesecake Recipe
A basic cheesecake is filled with chocolate and caramel candies and sits on a chocolate wafer crust. A drizzle of chocolate and caramel sauce puts the finishing touches on this mouth-watering dessert recipe.
Ingredients
Crust:
2

cups

chocolate graham crackers

crushed

1/2

cup

sugar

1/2

cup

butter

melted
Cheesecake:
3 - 8

ounce

packages cream cheese at room temperature

1

and 1/2 cup sugar

1/8

teaspoon

salt

4

eggs at room temperature

1

tablespoon

all-purpose flour

1

teaspoon

vanilla

1

and 1/4 cup caramel filled chocolate candies like Rolos brand
Instructions
Combine crushed crackers, sugar and butter with a fork. Press in 9 inch spring form pan, set aside.

Preheat oven to 350 degrees F.

In a shallow oven proof pan, I use a 9x13 inch casserole dish, fill with 4 cups water.

Place pan with water on the lowest rack in oven.

Place another rack in center of oven. This top rack will be the one you bake the cheesecake on.

Blend 1 and 1/2 cup sugar and cream cheese in mixer until smooth.

Add salt and flour. Beat until creamy and all lumps are out but don't over beat.

Add eggs, one at a time until just combined, add

vanilla

and combine completely.

Make sure mixture is lump free and smooth.

Pour into prepared spring form pan.

Place chocolate candies evenly on cheesecake. You do not have to press them into the cheesecake, they will sink as the cheesecake bakes.

Bake 45 minutes at 350 degrees F.

The top of cheesecake will turn from glossy to matte when cooked. A 2 to 3 inch circle in the center will be 'giggly' when it's done. This will firm up as it cools and sets.

Turn oven off and open oven door slightly, but leave cheesecake in oven and undisturbed for 10 to 15 minutes.

After this time, allow cheesecake to cool completely on

wire rack

on countertop.

After the cheesecake is completely cool, refrigerate overnight or at least 12 hours before cutting.

Before serving top with more Rolo candies and chocolate and caramel sauce. I used 1 cup of Rolos and about 1/4 cup store-bought ice cream chocolate sauce and 1/4 cup store-bought ice cream caramel sauce to garnish.

Cool completely about 2 hours before refrigerating. Refrigerate 8 hours before slicing.
Notes
©CallMePMc.com All images & content are copyright protected. Please do not use my images without prior permission. If you want to republish this recipe, please re-write the recipe in your own words, or link back to this post for the recipe.
You may also like these cheesecake recipes
Chocolate Chip Cheesecake Bars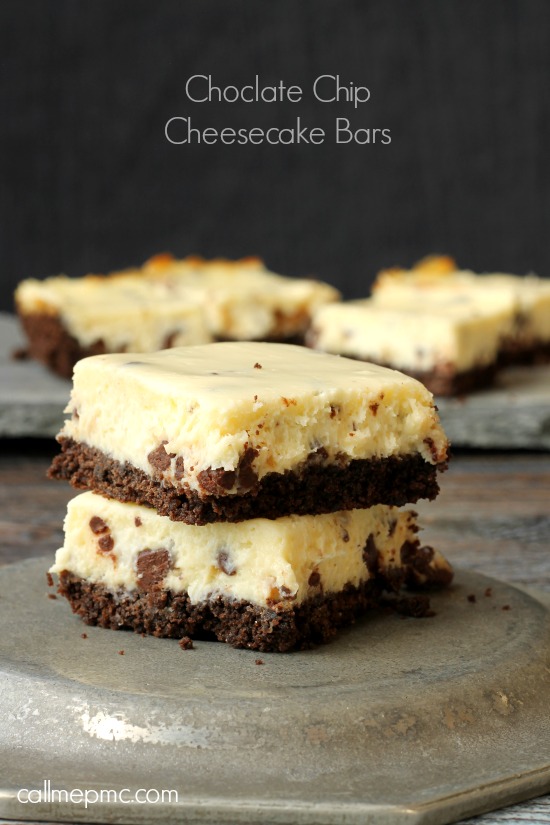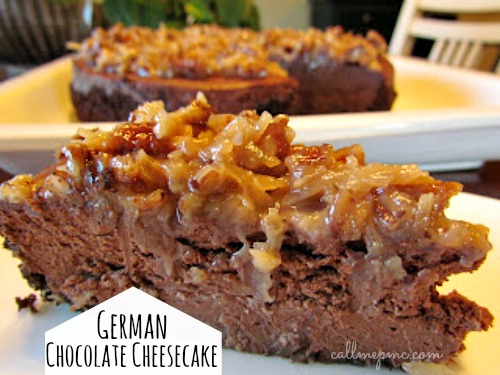 Skinny Peaches & Cream Greek Yogurt Cheesecake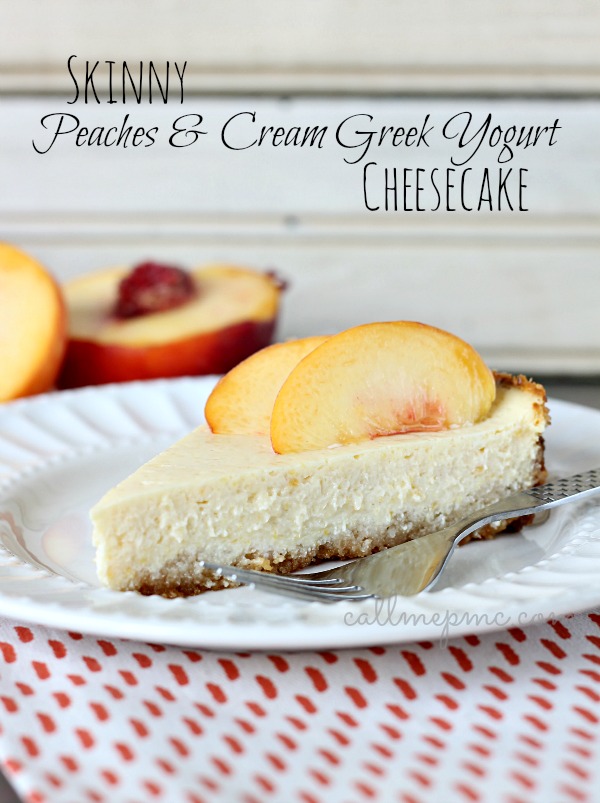 Do you like making cheesecake? Have you tried a Rolo Cheesecake Recipe before?