Quiche is something that I can eat for breakfast, lunch or dinner. I love the creamy texture of them. I love when they're chock full of fresh vegetables and I love a flaky crust. I love that you can throw in leftover veggies and the family doesn't know they're eating 'leftovers…again'! And, I love just about anything cheesy!
This Veggie Quiche has all those attributes.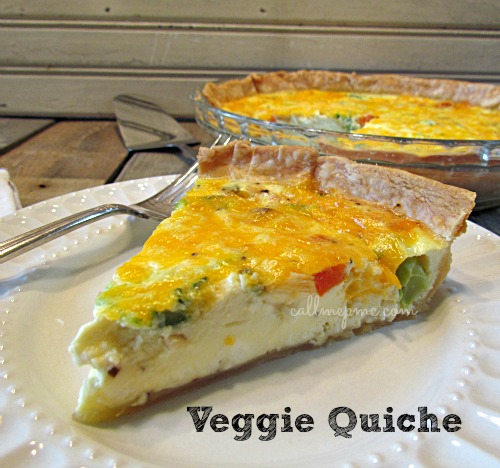 Just look at that cheesy, veggie goodness!
Speaking of the picture, were we speaking of the picture? I dunno, but let's! So I love PicMonkey.  You can do all kinds of cool, awesome and rad things in PicMonkey. One thing you can do is take an average photo and make it pretty darn good. First you need to 'auto adjust' exposure under Basic Edits. Next, to sharpen the image you click 'unsharpen mask' (I know, doesn't make sense), but then you adjust the radius, strength and clarity to get the best image you can. Lastly, if you need color adjustment, under Effects go to Curves and adjust. Then you can add fonts or overlays, you know how to do that, right? So, I learned a lot of this from reading the PicMonkey blog. Check it out!
Ok, back to Veggie Quiche! Here's the recipe. This particular quiche I would serve for brunch or lunch, it doesn't scream 'breakfast' to me!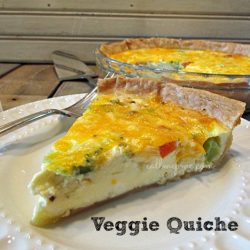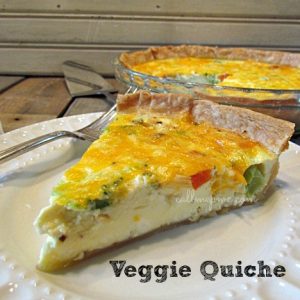 Veggie Quiche
Ingredients
5

eggs

1 1/2

c

broccoli

chopped

1/4

c

red bell pepper

2

T

green onions

sliced

1

c

buttermilk

1

tsp

Dijon mustard

1/4

tsp

freshly ground black pepper

1/4

tsp

salt

2

oz

feta cheese

crumbled

1

tsp

fresh jalapenos

diced small

1 1/2

c

shredded cheddar

1

pie crust
Instructions
Preheat oven to 350 degrees. Blind bake pie crust 10 minutes.

While crust is baking, stir together eggs, buttermilk, mustard, salt, pepper. Whisk until smooth.

Add broccoli, bell pepper, green onions, jalapeno and stir.

Add feta and cheddar and stir.

Pour into pie crust.

Bake 30 minutes or until golden brown and set in the center.

Allow to cool 10 minutes before serving.
What's your favorite quiche? Do you like quiche with meats or just veggies better?
You may also like these tarts!