Avocado & Fruit Salad with Cranberry Vinaigrette is packed with crunchy greens, bright berries, and creamy avocados.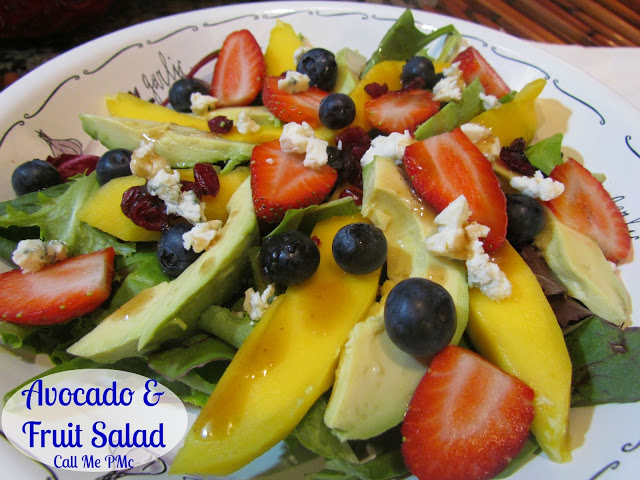 Because of my love of sushi, I have come to like avocados. My favorite sushi restaurants sneak avocados in my favorite rolls. It's a small little slice so instead of picking it out, like I wanted to do when I first started ordering the roll, I decided I wouldn't behave like my children so I ate it. I came to like it. I realize that's a little random. I don't like avocados with Mexican food and I don't like guacamole at all. But, I'm a lot picky when it comes to food. I had a former co-worker tell me I eat like a child; she may be right. Maybe that's why I like to cook so I can have it my way…maybe not, we'll let the therapist decide that one! Anywho…back to me….
Since I've been on a trying-to-eat-healthier kick, I decided they're worth liking. In dishes that I make, I almost always eat avocados with mangos, the two flavors compliment each other in my mind. Avocados are nutrient dense, the ratio of nutrients compared to calories in food, having 20 essential nutrients including fiber, potassium, vitamins A, B, C, D, E and K, and folic acid. They contain both monosaturated and polysaturated fats, or 'good' heart-healthy fats. I've been slowly working avocados and other fresh ingredients into our diets.
Kroger had just put out a new shipment of produce when I was in, I couldn't resist all the beautiful fruit. I wasn't sure exactly what I wanted to make when I purchased it, but this salad is what I came up with.
I hope you'll try it. It's a wonderful mix of sweet and tangy with a little kick from the spinach. The Cranberry Vinaigrette is a nice change from more commonly used dressings. If you're trying to lighten it up, make this salad!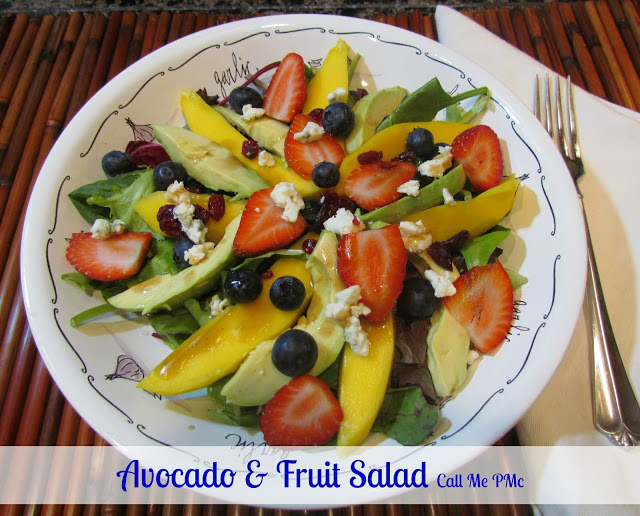 Salad (make 2 large dinner salads)
Avocado & Fruit Salad with Cranberry Vinaigrette
Avocado & Fruit Salad with Cranberry Vinaigrette is packed with crunchy greens, bright berries, and creamy avocados.
Ingredients
4

c

salad greens

I used a spring mix with baby spinach

1

mango

peeled and sliced

1

avocado

peeled and sliced

1/2

c

blueberries

1

c

strawberries

sliced
For Cranberry Vinaigrette dressing:
1/4

c

cider vinegar

1/4

c

dried cranberries

1/4

c

good olive oil

2

tsp

white sugar

1/8

tsp

salt

pinch

of freshly ground black pepper
Instructions
Mince cranberries. Add vinegar,

olive oil

, cranberries, sugar, salt and pepper to a pint size Mason jar. Shake vigorously 30 seconds to combine. Chill in refrigerator until ready to use.

Layer salad greens, mango, avocado, blueberries, strawberries and blue cheese in a two

bowls

. Top with chilled Cranberry Vinaigrette. Serve immediately.

Other avocado recipes you may like: Onion Avocado & Mango Salsa and Teriyaki Scallops with Pineapple Mango Relish . Also, trying topping your next Club Sandwich with a couple avocado slices.
Nutrition
Calories:
348
kcal
|
Carbohydrates:
54
g
|
Protein:
5
g
|
Fat:
16
g
|
Saturated Fat:
2
g
|
Sodium:
177
mg
|
Potassium:
959
mg
|
Fiber:
12
g
|
Sugar:
36
g
|
Vitamin A:
2175
IU
|
Vitamin C:
112
mg
|
Calcium:
45
mg
|
Iron:
2
mg