These Egg-cellent quiche recipes are easy to make and taste amazing! Crustless, sausage, bacon, and more quiche recipes are waiting for you.
For more scrumptious recipes, fun projects, and exciting news subscribe to Call Me PMc
Facebook, Instagram, Pinterest
Sign up to receive an email in your inbox for each new recipe: FREE EMAIL SUBSCRIPTION
I created a fun group on Facebook and I'd love for you to join it! It's a place where you can ask questions, see what's new with Call Me PMc, and find new recipes from my blogger friends. If you'd like to check it out, you can request to join HERE.
Egg-cellent Quiche Recipes
Scratch-made is the best. You can use leftover vegetables and proteins, as well as, vary the cheeses to change the flavor. Use these kaleidoscope of ingredients to craft a delicious breakfast, brunch, or dinner. There is truly a quiche that everyone will enjoy!
Depending on your diet, you can make them with a traditional crust. Or, you may choose keto-friendly with no crust or use low-carb flours.
Even if you're not a cook, try making quiche. All quiche recipes are basically simple to make yet impressive to present. If you're looking to impress at a breakfast or brunch, present a golden browned quiche. You'll be the talk of the party (in a good way!).
However, quiche isn't just for the morning hours. A dinner of quiche with a green salad will blow your taste buds away! Any of these fantastical quiche recipes will absolutely satisfy your taste buds.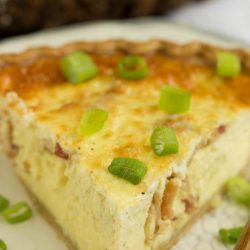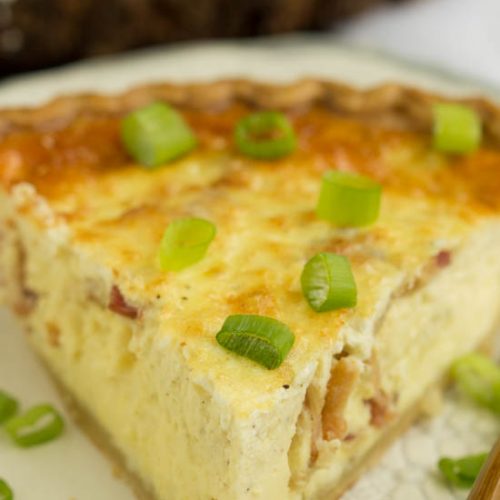 This easy breakfast quiche uses a prepared pie crust for convenience that's perfect for brunch. Bacon Havarti Quiche Recipe is a delicious combination of eggs, Havarti cheese, bacon, fresh herbs, all cradled in a delicious thin pie crust!
make this recipe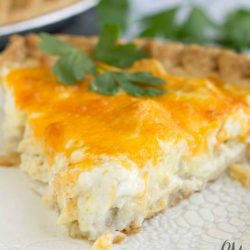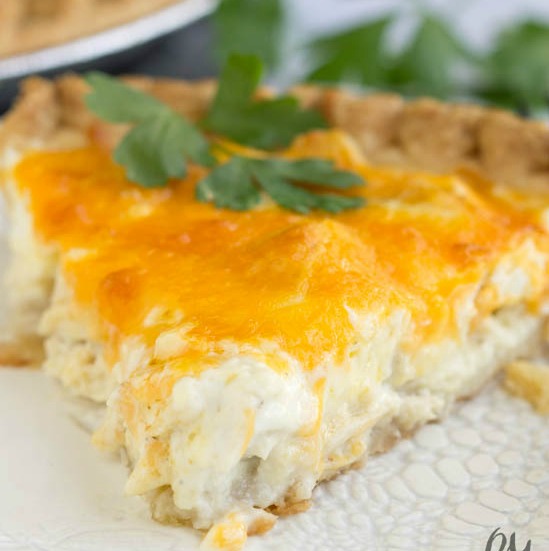 Simply Chicken Quiche an easy quiche recipe with chicken only and no veggies. 
make this recipe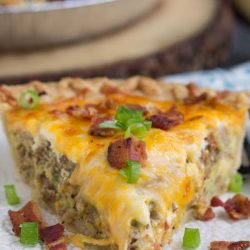 This Bacon and Sausage Quiche is perfect for breakfast, lunch or dinner. Serve with a side salad and you have a meal in minutes.
make this recipe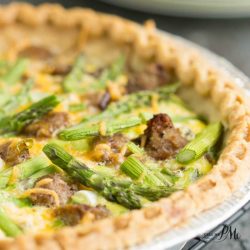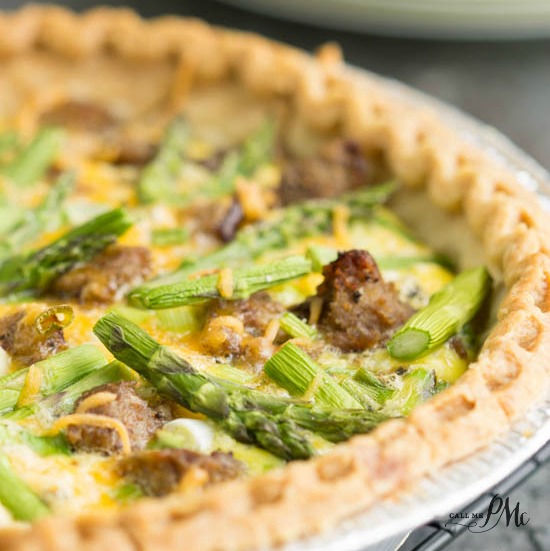 Turkey Sausage Asparagus Quiche is a quick and easy recipe that's ready in about 30 minutes. This is a good dinner or brunch recipe.
make this recipe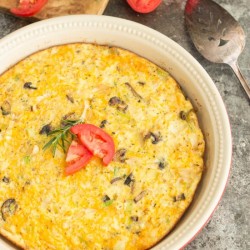 Sauteed Cauliflower Mushroom Leek Crustless Quiche is full of cauliflower, mushrooms, and leeks that have been sauteed to bring out the flavor. This recipe is hearty and satisfying. It's great for breakfast, lunch, or dinner.
make this recipe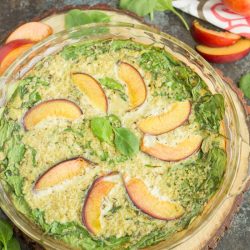 Apricot Spinach Quinoa Crustless Quiche Recipe is a hearty, high protein, low carb breakfast. 
make this recipe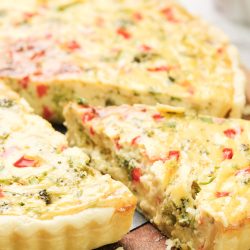 This Easy Veggie Quiche is loaded with healthy vegetables, a luscious, creamy egg filling, and a gorgeous flaky crust. It's easily customizable with your favorite veggies and whatever cheese you have on hand.
make this recipe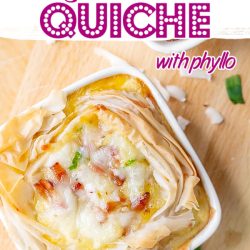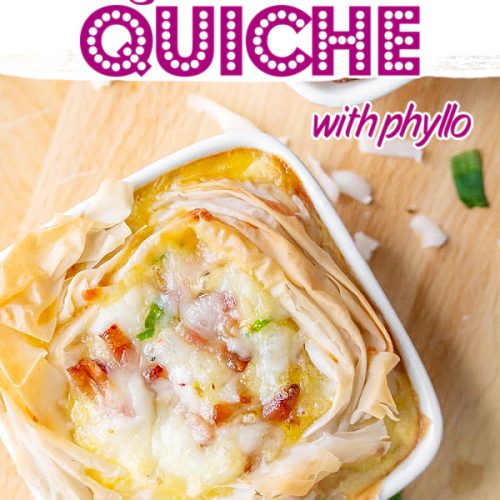 Elegant Individual Quiche uses a unique crust and is filled with your favorite quiche items.
make this recipe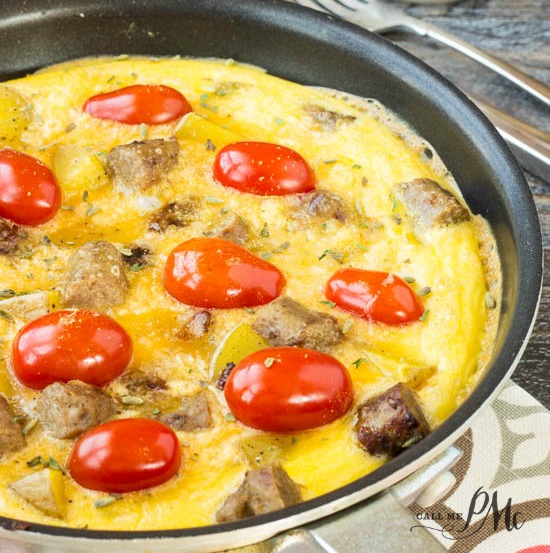 A all-in-one breakfast, that's healthy, easy and high in protein. Pre-cook any vegetables and meats before adding them to your oven omelet. Enjoy a flavorful breakfast and leftovers sandwiched in a biscuit or roll.
make this recipe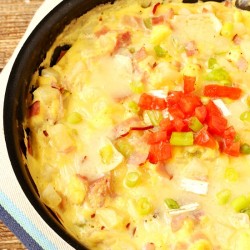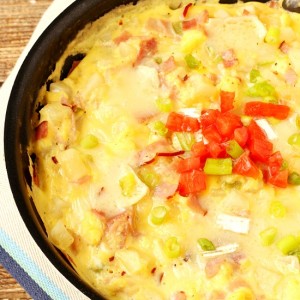 Three popular ingredients make this big baked omelet a crowd-pleaser. This Ham Cheese and Potato Frittata make a filling breakfast, brunch or breakfast-for-dinner meal.
make this recipe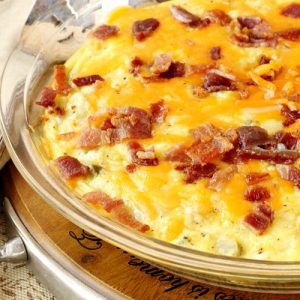 Baked Potato Bacon Egg Breakfast Skillet is creamy, gooey, salty and extremely flavorful!
make this recipe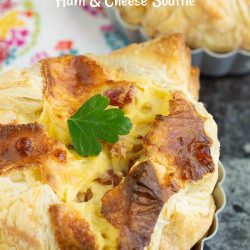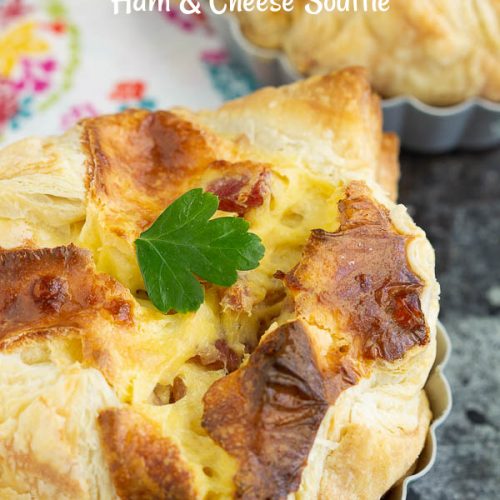 An easy and delicious way to start the day off right with baked eggs in a flaky crust!
make this recipe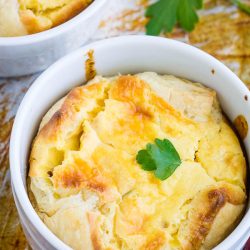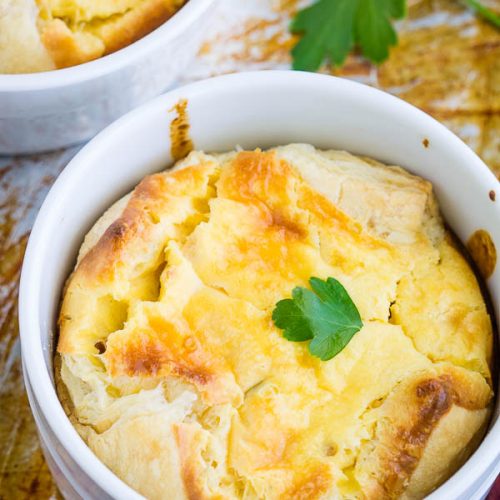 An easy and delicious way to start the day off right with baked eggs in a flaky crust!
make this recipe
As a busy mom, Paula saw the need to simplify cooking and meal prep without sacrificing flavor. She provides simple recipes and time-saving strategies for delicious and nutritious meals for your family. Please share CallMePMc.com with your friends.