These are some great recipes for date night or Valentine Dinner if you plan to stay home and cook.
Stay home, relax and unwind with a glass of wine and enjoy cooking with each other with this simple menu plan.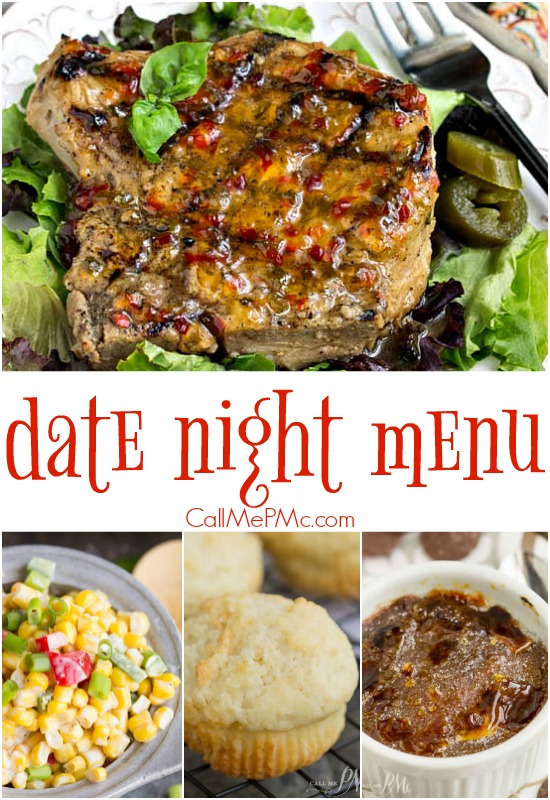 Valentine Dinner
If you're going to stay home, make dinner special with something you would normally make. This pork chop recipe hits the mark perfectly. Although, the other recipes I don't classify as 'signature' recipes. I wanted to have a good balance of easy-to-make recipes with not as easy.
Below is each individual recipe. Click the title and it will take you to the post where you can bookmark or print the recipe.
1. Jalapeno Basil Pork Chop

2. Corn Salad

3. Chocolate Chip Cookie Pie

4. 10 Minute Rolls
I know this is a winning combination, we actually served this exact menu at Supper Club. I served the corn salad in Romaine leaves. It made a pretty presentation and you could pick the whole 'wrap' up and munch! As well, the corn salad is also a cool contrast to the spicy pork.
The red pepper jelly is hot! I have found that Braswell's brand is as hot as the Tabasco brand! And it can be difficult to find at the grocery store. Sometimes, it's shelved with the jelly. However, sometimes it's housed in the Ethnic section Oriental, Mexican, Cajun! I don't know, I just don't know what to say about that!!
The 10 Minute Rolls are just too easy not to make. Also, make more than you think you'll need, they go fast!
This post contains affiliate links. If you click the link and make a purchase I will receive a small commission at no cost to you. Visit all my recommended products at Paula's Picks on Amazon. Read my entire Privacy Policy here.
REMEMBER TO SUBSCRIBE TO Call Me Pmc Newsletter  FOR FREE AND RECEIVE FRESH RECIPE NOTIFICATIONS DELIVERED INTO YOUR INBOX! You may also want to join my Facebook Group, Call Me Pmc- Easy Recipes.