Lincoln, my oldest son, is 10.
The last couple of months, especially since the beginning of this school year,
I have noticed him saying 'cool' little phrases.
Like, "that's sick", "that's chill", or "that's sweet".
He was telling me a story over breakfast, as he finished I said,
"oh, that's cool!"
because cool was the word/my word for a long time,
then came awwwe-some (say it with surfer dude attitude),
and sometimes I'll throw in a 'that's radical or rad'
You know, because I'm all cool and hip like that and all.
He said in the sweetest way he could "Mom, 'cool' is just not the word anymore."
What!?
And because I really like to watch him flush crimson red,
'Dude, word,
I'm cool,
I'm hip
I'm gangsta
I am so down with that'
and I do the gangsta hands
do the head tilt
do the duck bill lip pucker and
do my best Nicki Minaj pose
'Dude, I invented cool!'
I think he fell off the chair!!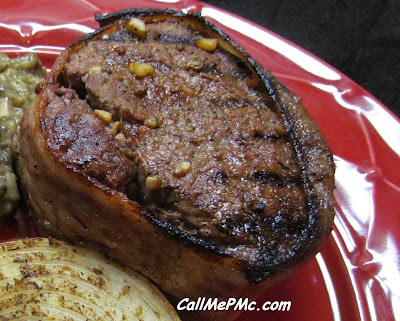 He may not think I'm 'wicked' but he still likes my steak!!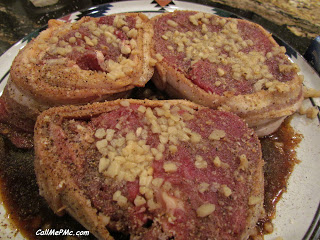 Today I'm sharing this perfect Grilled Steak with Red Wine Sauce.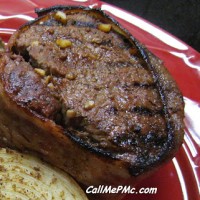 Print Recipe
Grilled Steak with Red Wine Sauce
Ingredients
Steak Seasoning:
3

T

salt

3

T

paprika

2

T

fresh ground black pepper

1

T

garlic powder

1

T

onion powder

2

tsp

thyme

2

tsp

oregano

Combine all seasoning ingredients. Set steaks out to reach room temperature and press seasoning mixture into all areas of steaks. Set aside and prepare grill.
Instructions
A gas grill was used on these steaks. Heat grill to 450 - 475 degrees F. When grill reaches that temp and steaks are room temp, sear steaks on hottest part a grill 3 minutes. Rotate steaks a quarter turn (for the 'X' type grill marks) and grill another 3 minutes. Flip steaks to other side and grill 3 minutes, rotate 1/4 turn and grill another 3 minutes. At this point, move steaks to a cooler area of the grill and continue cooking until your preferred doneness.

You can use this method to check doneness of the meat.

Allow steaks to rest 5 minutes before cutting.

Start Sauce while steaks are grilling and resting.

Red Wine Sauce

/2 c finely chopped onion

/4 c dry red wine

(13 3/4 or 14 1/2 oz) beef broth

Cook onion in 1 T

butter

over medium heat 1 to 2 minutes or until tender. Add wine and broth to onions; bring to a boil over medium-high heat. Cook 12 to 13 minutes or until reduced by about 1/3. Reduce heat to low. Combine butter and flour in a small

bowl

until smooth. Whisk into wine sauce; cook and stir 1 mintue or until sauce is thickened. Serve warm over steaks.
Tried this recipe? I'd love to hear from you. Comment below or mention & tag me on Instagram
Mention @Paula_callmepmc or tag #callmepmc!
Instead of the Red Wine Sauce you may want to spread a cube of Compound Butter on your steak instead. I thought this was incredibly strange the first time I heard of it, but then I tried it at Ruth's Chris steak house and have been hooked on the butter/steak combo!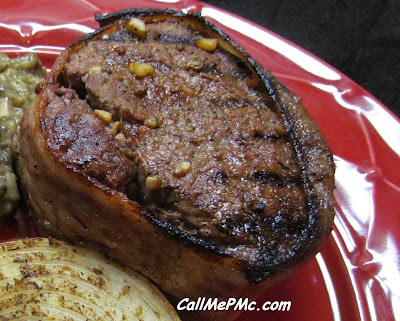 For more scrumptious recipes, fun projects, and exciting news, subscribe to Call Me PMc
Facebook, Twitter, Pinterest, Google+, Bloglovin'