25+ THIRTY MINUTES WEEK NIGHT MEALS
This post may contain affiliate links that won't change your price but will share some commission.
25+ THIRTY MINUTES WEEK NIGHT MEALS – School starts back for my boys on August 5. That's way too early. We didn't have enough Summer? Did you?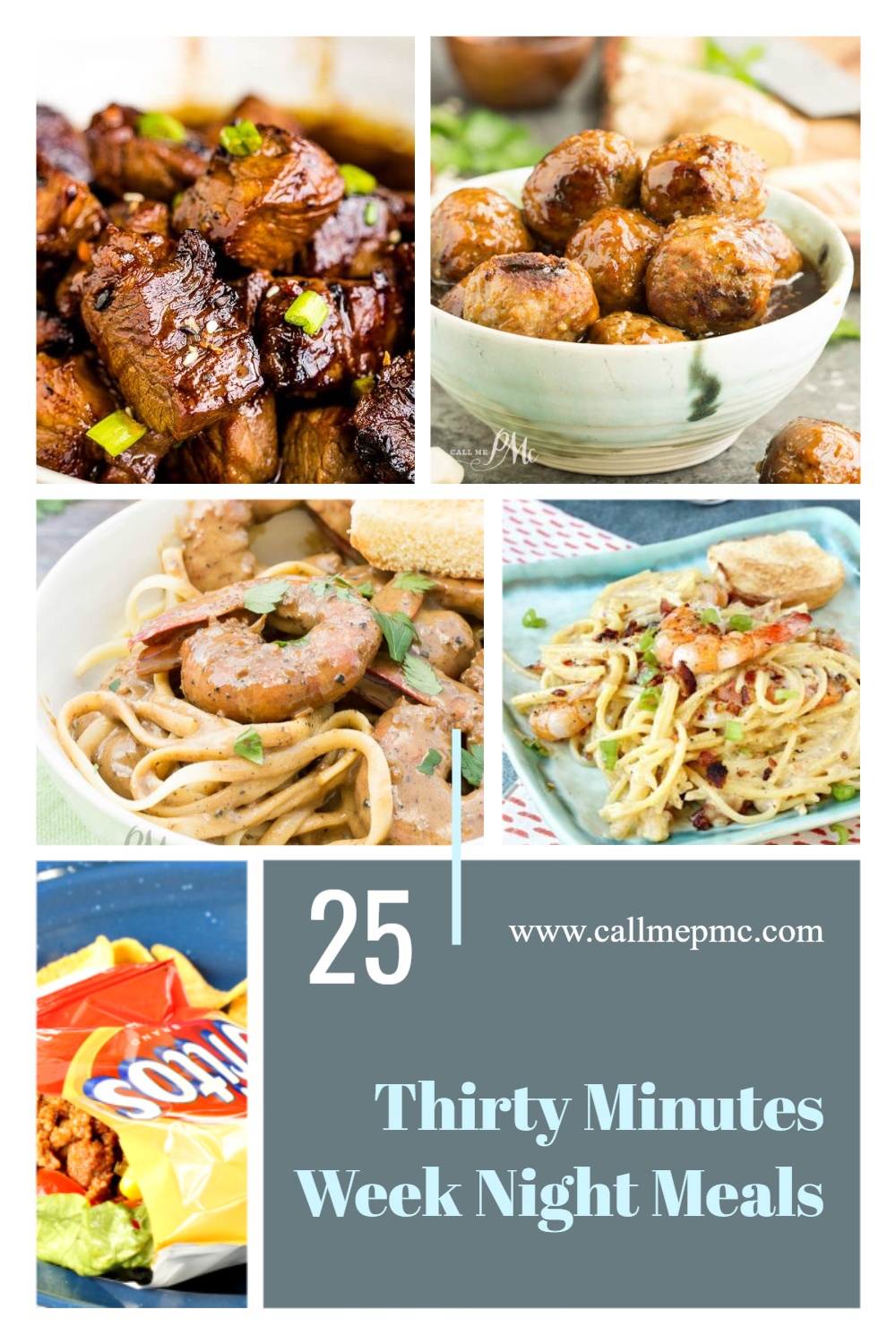 I know it's different around the country Generally, we get out the third or fourth week in May and typically start back the first or second week in August. The kids get about eight weeks off. When I was in school, we got 12 weeks off! My boys are envious of that. That's about the only thing they're jealous of though, they can't imagine life without the Wii, DS or Pokemon! Sometimes I tell them I didn't have cable TV and cartoons only played on Saturday mornings just to really freak them out!
So, school starts back and all heck breaks loose! Ballgames, homework, projects, scouts, fundraising (bleck :p, fundraising! – I wish I had a dime for every dollar I fundraised for someone else!! I need to fundraise for myself!!) Ok, sorry, so I put together these recipes (and they're not from Rachael Ray!) for your busy week nights. I hope this helps ease the transition back to school!
25+ THIRTY MINUTES WEEK NIGHT MEALS
If you're a mom with a little one starting school for the first time you may want to read these posts.
Mom's Survival Guide to Back to School I and Mom's Survival Guide to Starting School II
REMEMBER TO SUBSCRIBE TO Call Me Pmc Newsletter  FOR FREE AND RECEIVE FRESH RECIPE NOTIFICATIONS DELIVERED INTO YOUR INBOX! You may also want to join my Facebook Group, Call Me Pmc- Easy Recipes.
As an Amazon Associate, I earn from qualifying purchases. This post contains affiliate links. If you click the link and make a purchase I will receive a small commission at no cost to you. Visit all my recommended products at Paula's Picks on Amazon. Read my entire Privacy Policy here.