Southern Foods We Can't Get Enough Of
This post may contain affiliate links that won't change your price but will share some commission.
14 Southern Foods We Can't Get Enough Of. I put together this collection of Southern recipes. This roundup includes recipes from every region. Some are classics that have been passed down for generations and some I gave a personal twist. Enjoy!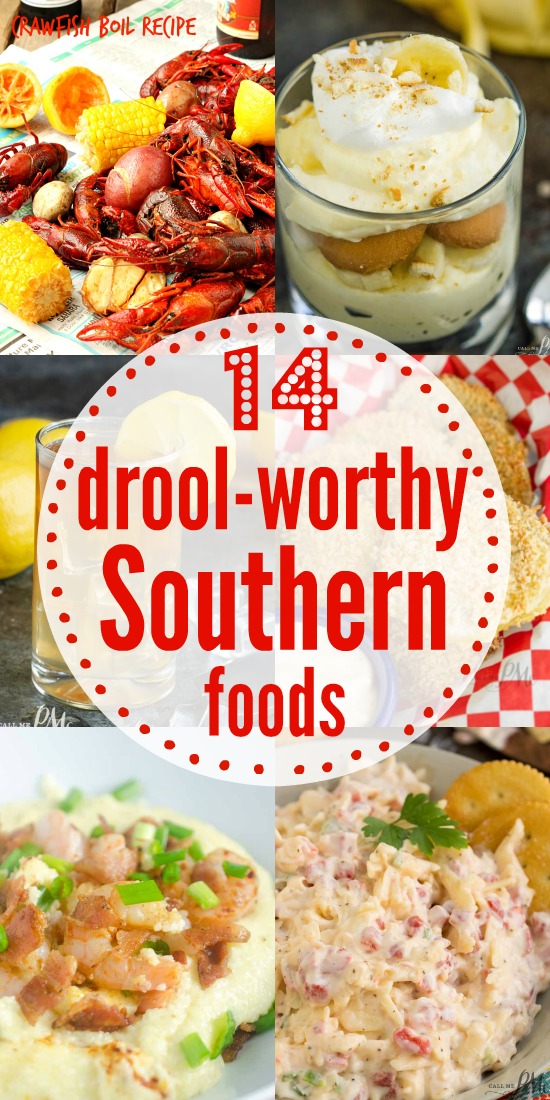 Southern Foods We Can't Get Enough Of
Southern food is evocative. It makes us remember. Before we tell you how a Southern food taste, we must tell you how it makes us feel and who it reminds us of.
Southern food is a melting pot of Native Americans, Europeans, and Africans and changes slightly from region to region. Southern cooks hunted, gathered, grew, and cultivated our indigenous foods. It evolved over time.
"In practically every good and lasting memory any Southerner holds — of family and friends, of home and countryside, of school and church, of joyful and even solemn occasions — food is there, working through all the senses to leave a powerful and permanent impression." J Egerton
Southern dishes are exactly what you need when you're craving comfort food! The foods bring smiles to our faces and a warm feeling in our hearts. Southern cuisine is full of comforting home-cooked recipes that make you feel like you're back in your mother's or grandmother's kitchen where she cooks with bacon fat and buttermilk.
If you're craving good ole Southern classics, try one or all of these 14 delicious recipes! I collected many of these recipes from family and friends who I consider to be great cooks. Get ready for real authentic cooking and good eating.
Another good southern recipe is Southern Food We Can't Get Enough Of. As well, you can also find great recipes in my recipe index.
This post contains affiliate links. If you click the link and make a purchase I will receive a small commission at no cost to you. Visit all my recommended products at Paula's Picks on Amazon. Read my entire Privacy Policy here.
As a busy mom, Paula saw the need to simplify cooking and meal prep without sacrificing flavor. She provides simple recipes and time-saving strategies for delicious and nutritious meals for your family. Please share CallMePMc.com with your friends.
You can also find great recipes here