These recipes, 18 Healthy Grab and Go Breakfasts, help you save time in the morning while still enjoying a healthy, tasty meal. Start the morning off with a filling and healthy breakfast packed with good-for-you nutrients.
Some people need a bite to eat in the mornings to get them going. Some people had rather save time and wait until lunch. According to the Mayo Clinic, "Some research suggests that regularly eating a healthy breakfast may help you lose excess weight and maintain your weight loss. But other research suggests that skipping breakfast may not be bad for you and may also help with weight control."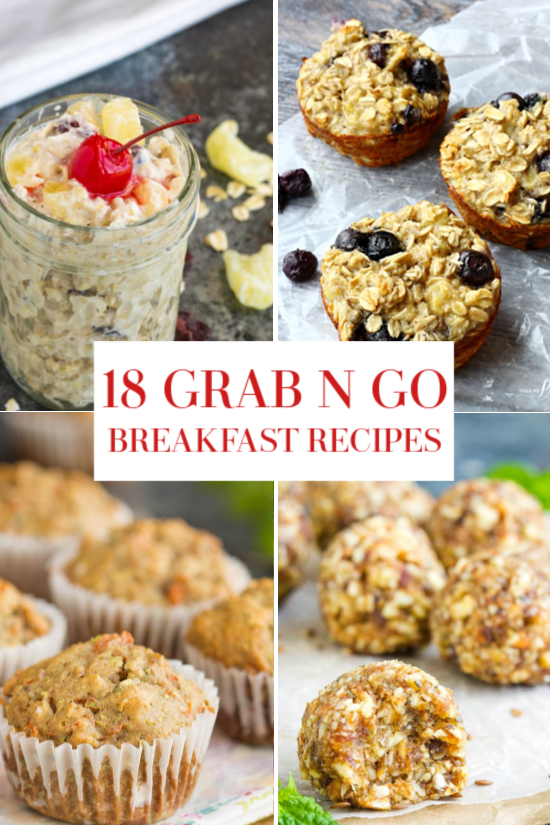 18 Healthy Grab and Go Breakfasts
Whether you are a breakfast eater or not, one fact remains true. The majority of people just don't have time for breakfast. At least they don't have time to make a big, elaborate, time-consuming breakfast. By planning ahead just a few minutes at night or on Sunday you can start your day off right.
Just because you sleep those extra five 15 minutes doesn't mean you can't eat healthily. That's where I come in. I collected these healthier recipes that are prepped or made early so that in the morning you can just grab them and go. Eat them on the way to work or stash them in your briefcase until mid-morning. As well, they make great pick-me-up afternoon snacks!
These meals are also great if you're a snacker (like me). Having something healthy to nibble on is much better than grabbing a handful of chips!
Click on the photo for the full, printable recipe!
For the Energy Balls or Bites recipes, go ahead and prepackage one serving in a ziptop bag. This way you won't even have to stop to do that in the morning.
For smoothie bowls, I make them the night before and store them in the freezer. By the time I get to work, it's thawed just the right amount. If it thaws too much, you can always drink it like a smoothie shake!
As an Amazon Associate, I earn from qualifying purchases. This post contains affiliate links. If you click the link and make a purchase I will receive a small commission at no cost to you. Visit all my recommended products at Paula's Picks on Amazon. Read my entire Privacy Policy here.