Black and Blue Salad
All the guys in my house love to grill, love to grill steak, and love to eat steak! I like steak. I don't love steak. I don't want the main component of my meal to be a big hunk of meat. So most times, I have a salad with steak on it vs a big honking steak with a side of a little, bitty salad.
The Black and Blue salad name comes from blackening the steak and the blue cheese. It's that simple.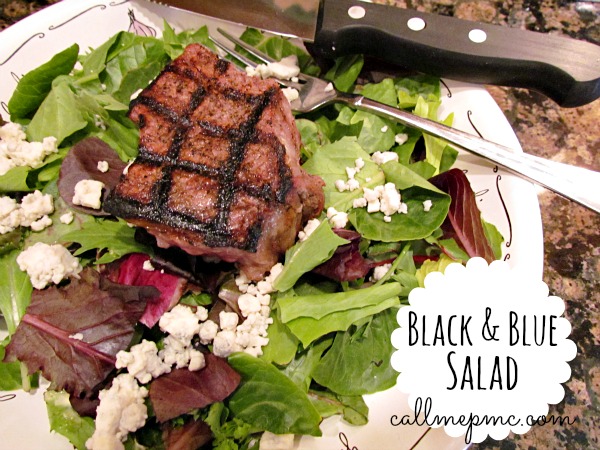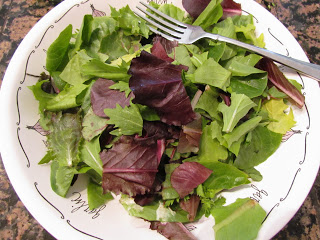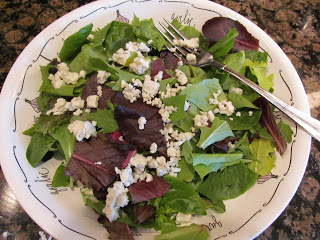 Print Recipe
Black and Blue Salad / Call Me PMc
Ingredients
Spring Mix lettuce

Blue Cheese

Blackened Seasoning

Grilled Ribeye steak

Mason Jar Balsamic Salad Dressing

Blackened Seasoning

1

T

paprika

1

tsp

salt

1

tsp

garlic powder

1

tsp

onion powder

1/4

tsp

ground cayenne pepper

2

tsp

ground black pepper

1/4

tsp

thyme

1/2

tsp

oregano

Mix all ingredients well.
Instructions
Rub blackened seasoning on steak and grill until internal temperature reaches 130 degrees. Let steak rest 5 minutes. Layer blue cheese, steak, and balsamic salad dressing over lettuce.
For dessert, try my
No-Cook Strawberry Cheesecake