Don't you wish everything had a 'like' button.
I find myself looking for the 'like' on Twitter.
Sometimes on other blogs I just want to hit 'like'.
Today when Hubs text me, I just replied 'like'
that was quick and to the point.
It would have been even faster if I just had to touch a 'like' button.
"Like"
This may be my new mission…..This dip will make you a very popular host. Be prepared for guests to only be hanging around the food station until it's all gone. You've been warned! Not only is it outrageously delicious; it's extremely versatile. I came up with this a couple of years ago. Playing up my '
Encore dish
' theme with appetizers, you can make one dip and serve it five different ways making it the
Perfect Appetizer
!
  LIKE!!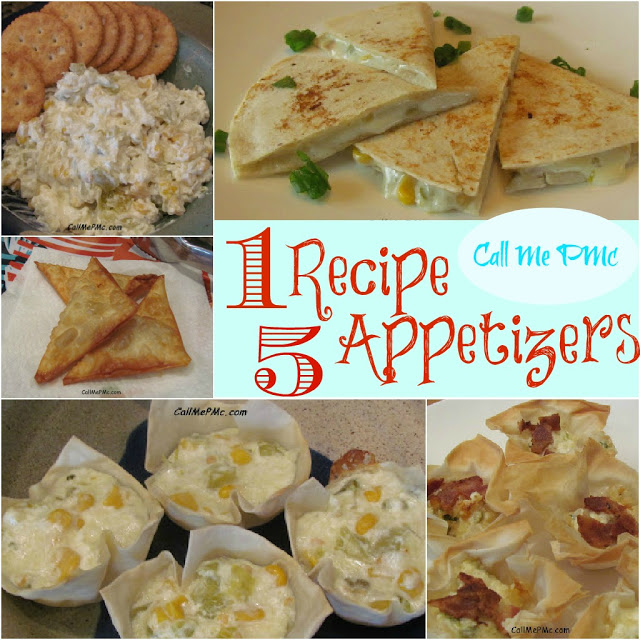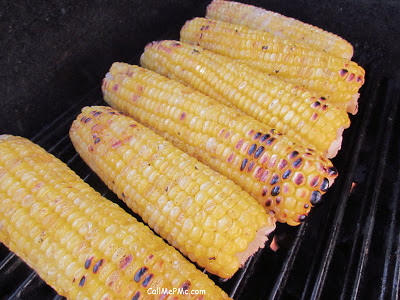 Grill corn until charred then slice kernels off.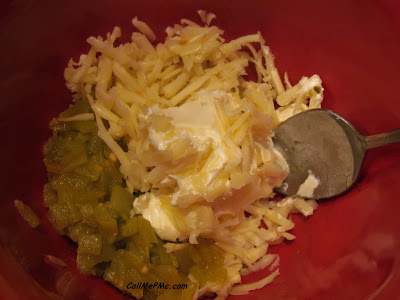 Mix chiles, cream cheese, cheese, pepper, garlic powder and corn together.
That's it. That's your basic recipe.
Serve it in wonton cups, fried wontons, as a dip, as quesadillas, or in phyllo cups!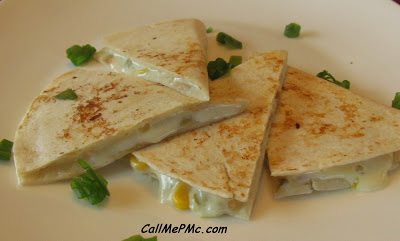 Quesadillas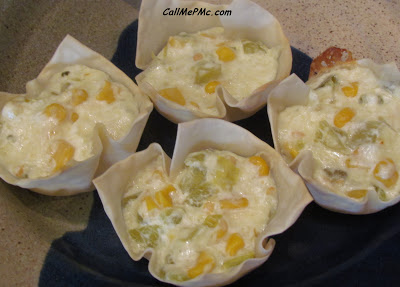 I was inspired to create this recipe a couple of years ago, I initially made it to be the filling in a quesadilla. It was fabulous. But, I distinctly remember reaching for Frito Scoop as the quesadilla was cooking, taking a big scoop and eating it. The next time I made it, I tried the mixture in a fried wonton. Great again! Try them all and decide which you like best.
Chile Cheese Spread (Basic Mixture)
Ingredients:
1 1/2 c Pepper Jack cheese, shredded
3 oz cream cheese, room temp
1 c *roasted corn
4 oz can green chiles, drained
1/2 tsp garlic powder
red pepper to taste
Directions:
In a bowl, mix cheese, cream cheese, pepper and garlic powder. Stir in chiles and corn careful not to break up too much. Use in any of the following applications.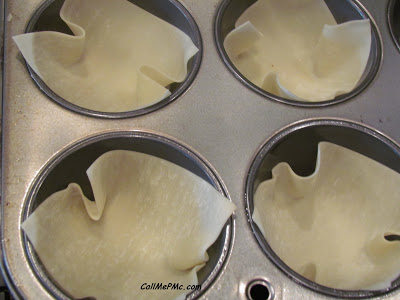 Press wonton wrappers in a muffin tin.
Cook at 350 degrees F 10 minutes.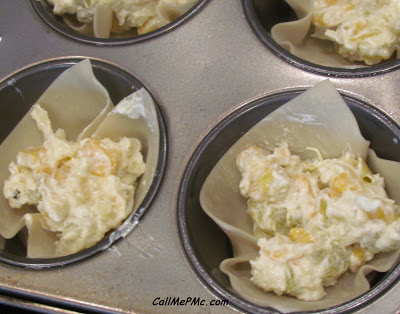 Remove from oven and fill with Chile Cheese mixture.
Return to oven another 10 to 15 minutes or until cheese melts and wrappers begin to brown.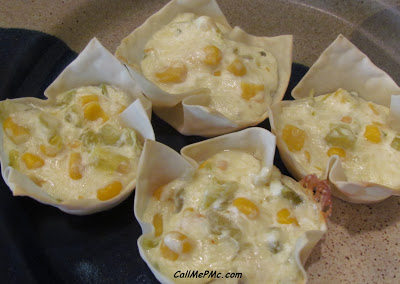 Serve hot or room temperature.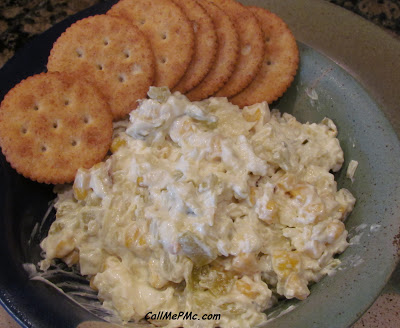 After mixing all ingredients, put Chile Cheese in a serving bowl and serve with your favorite crackers.
I prefer Ritz brand.
OR
Place mixture in an oven safe dish and bake in a 350 degree oven
until hot about 20 minutes. Serve hot with your favorite crackers.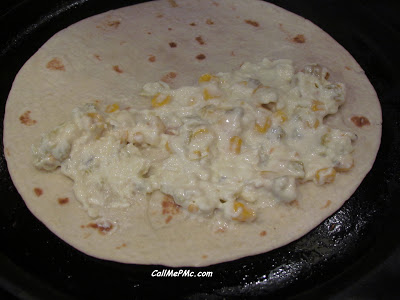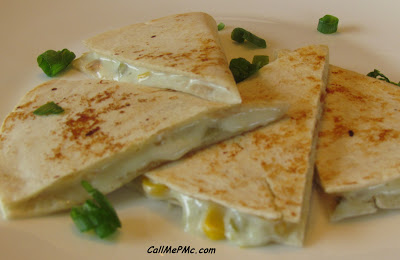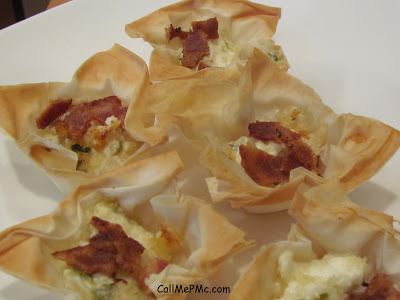 Preheat oven to 350 degrees. Spray mini muffin tin with non-stick spray. Use 3 layers of dough and cut dough into 3 inch squares using a pizza cutter. Press dough into tins. Spoon cheese mixture into each phyllo cup. I topped with extra bacon in photo above. Bake until golden brown and cheese is melted.
Serve hot or room temperature.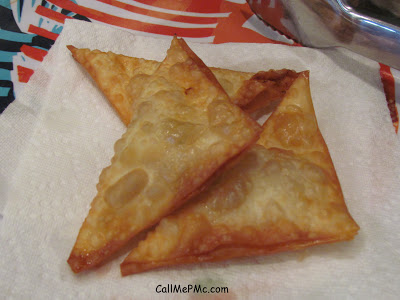 Heat vegetable oil to 375 degrees. Spoon 1 tablespoon of the cheese mixture into a  wonton wrapper.
Dip the tip of your finger in water and wet edge of wonton wrapper. Fold wrapper to close and air out and
edge together to seal. Fry 1 to 1 1/2 minutes on first side or until golden. Turn and cook second side
until golden. Remove from oil and drain on paper towels. These are best served hot.
They are great served with
pepper jelly
 or fig jam or preserves.
Now, I think you're ready for any pot-luck party you may be invited to this holiday season!!
*I prefer to use fresh corn on the cob in this recipe. Grill the corn on a grill, on high heat 8 to 10 minutes turning once. Cut the corn from the cob, then use in the recipe. If fresh corn is not in season, frozen corn on the cob can be substituted. My last resort is to use canned corn (drained).