Calling all you blueberry lovers! This fabulous assortment of recipes, 19 Scrumptious Blueberry Recipes, includes something for everyone's individual taste. I put together this spectacular list and there is something for everyone to enjoy from sweet to savory.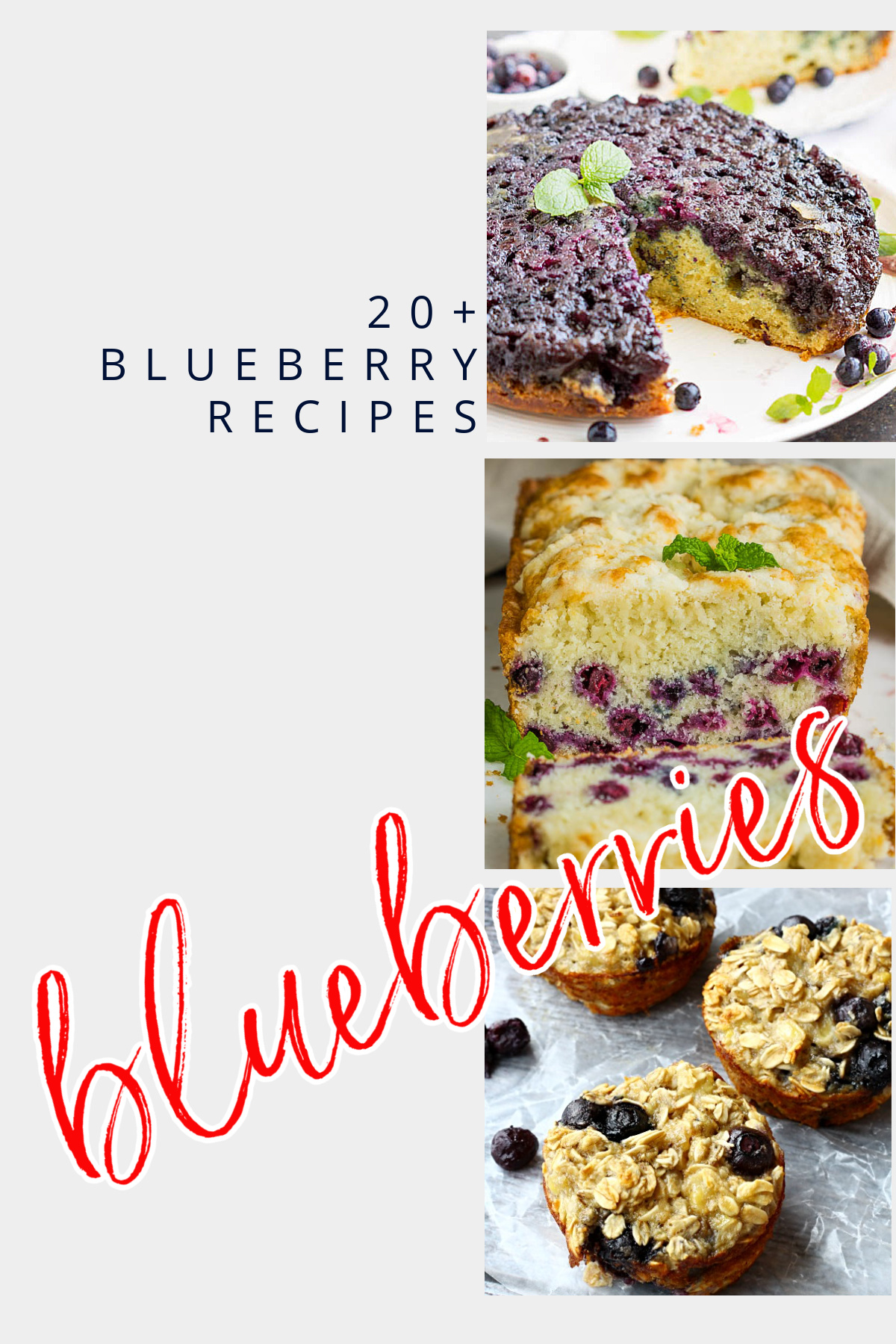 With the abundance of fresh blueberries this time of year, it is the perfect time to impress your guests with fresh blueberry recipes that are different from what you usually prepare.
Most important, blueberries not only taste wonderful, but they're good for you as well!
7 Healthy Benefits of Eating Blueberries
High in Antioxidants
Help Fight Cancer
Amp Up Weight Loss
Boost Brain Health
Alleviate Inflammation
Support Digestion
Promote Heart Health
Along with these recipes, you can use blueberries to top waffles, pancakes, yogurt, oatmeal, or cereal. Additionally, you can blend them in a smoothie or add them to your simple syrup. Try folding them into muffins and dessert bread.
If you've tried this recipe, don't forget to rate the recipe and leave me a comment below. I love to hear from people who've made my recipes! You can SUBSCRIBE to receive my latest recipe newsletters or FOLLOW ME on FACEBOOK, INSTAGRAM, and PINTEREST for even more delicious food.
19 Scrumptious Blueberry Recipes
I love to cook with blueberries both fresh and frozen. Therefore, I am always looking for new blueberry recipes for variety. Here are 19 recipe options to try today.

As well, as an Amazon Associate, I earn from qualifying purchases. This post contains affiliate links. If you click the link and make a purchase I will receive a small commission at no cost to you. Visit all my recommended products at Paula's Picks on Amazon. Read my entire Privacy Policy here.
Finally, as a busy mom, Paula saw the need to simplify cooking and meal prep without sacrificing flavor. She provides simple recipes and time-saving strategies for delicious and nutritious meals for your family. Please share CallMePMc.com with your friends.