MY KETO HOLIDAY
This post may contain affiliate links that won't change your price but will share some commission.
My Keto Holiday, with these recipes I've reimagined the holiday table to keep it in line with the keto diet.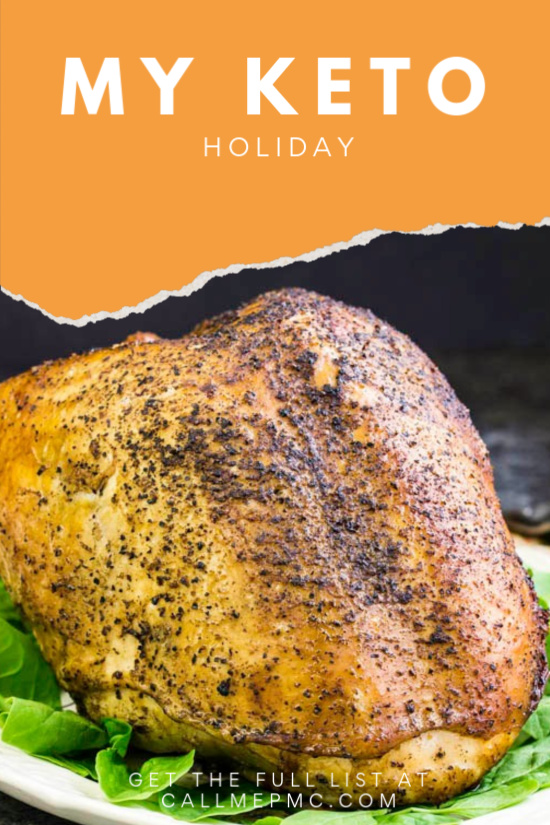 Although I don't follow an exclusive Keto diet, I have found several Keto-friendly recipes that my family and I enjoy. As well, whatever diet plan you follow, I highly recommend planning ahead and/or taking keto-friendly, low-fat, Paleo, etc dishes with you to parties, and family meals so that you can stay on track! Having the proper foods at your fingertips will be key in sticking to your goals through the holidays!
First and foremost, good strategies for healthy living for Keto followers are sticking to meats and green veggies. Be cautious of sauces and dressings they are likely to have added sugar or other non-compliant ingredients.
Another good strategy whether you follow Keto or another diet is to keep it simple. The fewer foods you have, the fewer you'll eat. It's that simple. I want a taste of everything on the table, but you can have variety without overload.
Your friends and family may not understand watching what you eat during the holidays, but ignore negative talk and stay strong! As well, if there's an activity that will take the focus – or some of the focus- off the food, by all means, plan it! Plan a physical activity flag football, cornhole, horseshoes, frisbee golf, golf, or even puzzles or cards!
My Keto Holiday
A Charcuterie Board can be your best go-to party staple and if the gathering happens to be a potluck, introduce your friends to the Keto lifestyle! Here is a collection of Charcuterie Boards I have made. Of course, the pretzel is Keto-friendly, but it makes a great presentation.
Click the photo for the recipe…
Whether you're looking for an appetizer, side dish, or main entree, I've got you covered with the recipes below. If you're hosting, you can even plan your entire holiday meal based on these recipes. You can feel confident building your special meal around any of these tried and true recipes.
One of my new favorites is this Keto Cheesy Balsamic Chicken
For breakfast, you may want to try my Keto Cheese Biscuits with Almond Flour.
You can also find great recipes at Recipe Index