Pecan Pie Influenced Dessert Recipes roundup – It all started with I made Pecan Pie Bread Pudding on a whim for tailgating. After the popularity of that recipe, I have been adding pecan pie flavors to other dessert recipes. They have been well received.
I made a list of my most popular 'pecan pie' inspired desserts.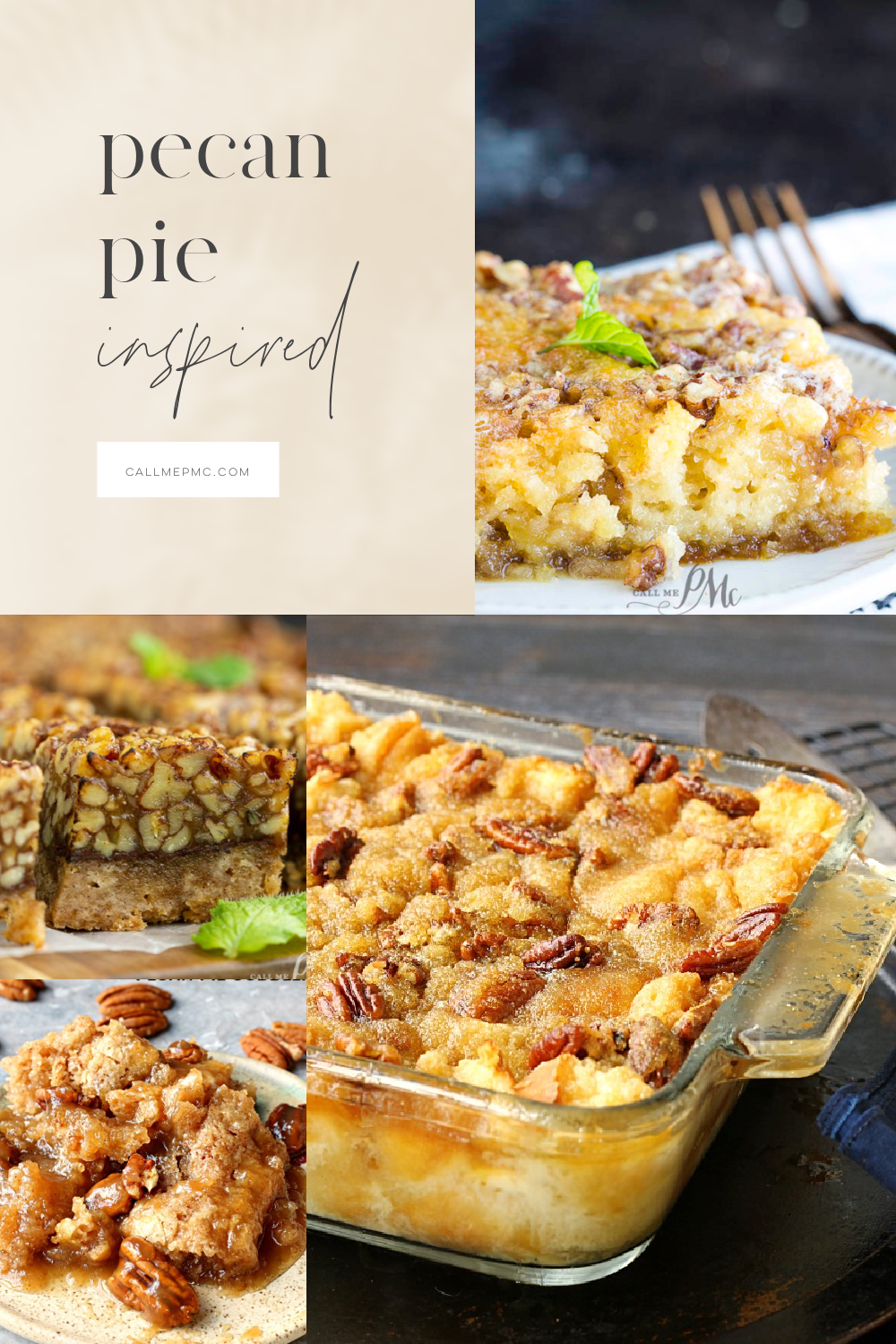 PECAN PIE INFLUENCED DESSERT RECIPES
"A treat for the eye — a thrill to the taste — and so easy to make!" was Karo® syrup's famous tagline for their pecan pie recipe. In the mid-1920s, the Karo brand started printing a recipe for pecan pie on the label of their cans of syrup as a suggested way to use it. With sugar being a scarce commodity, it was a brilliant marketing strategy.
After being popularized by Karo syrup, the pecan pie recipe would go on to appear in major cookbooks "Joy of Cooking" and "The Fannie Farmer Cookbook" with Karo syrup as a main ingredient.
Today, the classic recipe hasn't changed much and remains a Southern American favorite dessert.
PIE CRUST RECIPES
If you've been looking for the best pie crust recipe, try my Never Fail Pie Crust. It's so simple and truly is a 'never fail' recipe. As well, we enjoy this Coconut Pie Crust recipe. It's healthier yet you can't detect coconut oil has been used.
Let's start with the classic pecan pie recipe.
After watching a friend rake the pecans off her slice of pie, I make this Just the Goo pecan pie. Soon after, I followed up with Just the Pecans Pecan Pie.
And then for large crowds, I make Slab Pecan Pie Bars.
This is the Pecan Pie Bread Pudding recipe I mentioned in the opening. You will need either a 9×9-inch baking dish or a 9×13-inch baking dish if you choose to double the recipe.
next,
You'll want a good stand mixer for most of these recipes, especially Dark Chocolate Bourbon Pecan Pie Cheesecake
Also, check out Easy Recipes To Feed A Crowd