TASTY APPETIZERS FOR YOUR NEW YEAR'S PARTY
This post may contain affiliate links that won't change your price but will share some commission.
I collected these Tasty Appetizers for your New Year's Party that are guaranteed to please a crowd.
Are you planning to host a New Year's Eve party but don't know what to serve? Notably, no celebration is complete without food, and I mean irresistible food. I've got you! Don't stress out about hosting a party. I have compiled some of my favorite New Year's Eve appetizers. These recipes are crowd-pleasers as well as they're easy to prep.
[socialrocket-tweet quote="Tweet these recipes to your friends" tweet="Tasty Appetizers for your New Year's Party that are guaranteed to please a crowd. #recipes #roundup #appetizers #newyears #party"]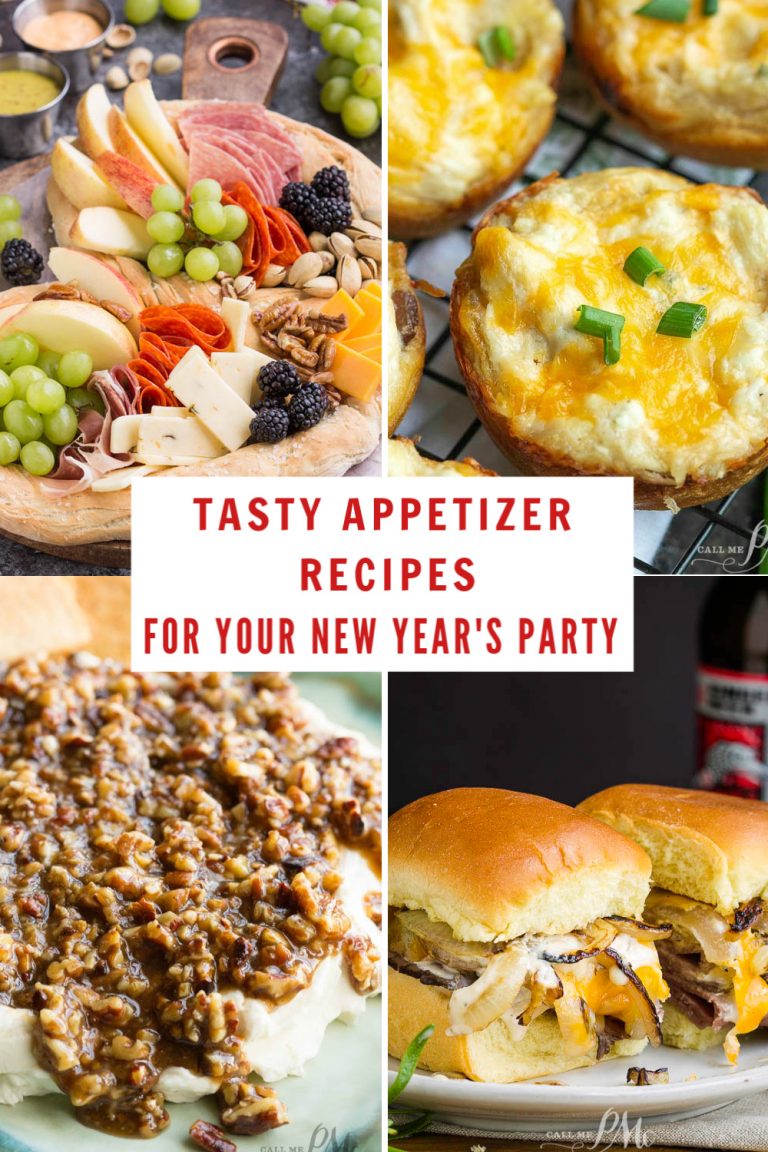 Finger foods are typically easy to prepare so that the cook can enjoy the party too. So, whether you're planning a big soiree or a small gathering with these recipes, you'll have tasty food offerings all night long for your guests.
Charcuterie Boards make entertaining super easy. For a great tutorial read, How to Assemble a Charcuterie Platter. As well, try my Southern Inspired Charcuterie Board that you're friends are sure to enjoy! My Topgolf Pretzel Board Recipe adds a fun over-sized pretzel to the board for a unique twist.
If you're looking for more New Year's Eve and New Year's Day party ideas, check out my post Cheap and Easy Party Food and Tips. As well, if you have bourbon drinkers in the crowd, you may want to make some of these recipes, 15+ Bourbon Cocktail Recipes to Get the Party Started. Small batch tequilas and hand-crafted margaritas are all the rage now. You may find a unique margarita here, 28+ Award-Worthy Margarita Recipes, to serve to your guests.
This collection of recipes includes links to White Queso Dip, Cuban Sandwich on a Stick, Baked Crack Chicken Biscuit Bites, and Bacon Wrapped Chicken Bites, to name a few.
Tasty Appetizers for your New Year's Party
Feast your eyes on these stunning Tasty Appetizers for your New Year's Party and let me know what you think! Click either the title of the recipe or the 'make this recipe' button to get the recipe.
As an Amazon Associate, I earn from qualifying purchases. This post contains affiliate links. If you click the link and make a purchase I will receive a small commission at no cost to you. Visit all my recommended products at Paula's Picks on Amazon. Read my entire Privacy Policy here.