Cheap and Easy Party Food and Tips – It doesn't matter what type of party you're throwing from a birthday party to family reunions or game day watch parties, there must be good food! Today I'm sharing some of my favorite cheap party recipes and tips.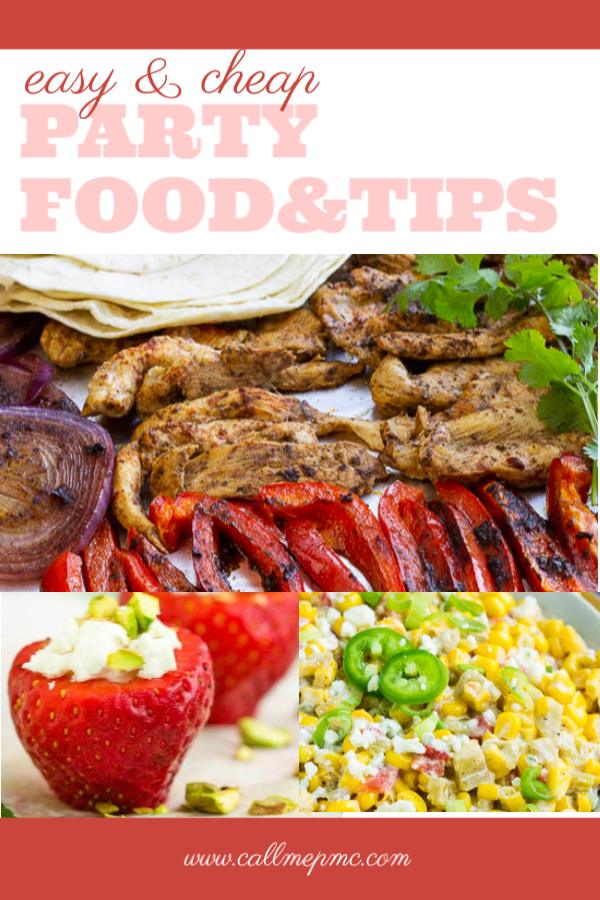 Cheap and Easy Party Food and Tips
Whether the party is big or small, people gather around good food. When we have a party, everyone is in the kitchen.
No matter the size or style of your party, I'm sharing tips for planning and prepping an amazing party for cheap! I also have an amazing list of party food recipes so you can take my list and recipes and know exactly what to serve!
If you know me and my husband, you know we love to entertain. We love having people over, whether it's one couple or forty friends. Unfortunately, if you're not careful, feeding a crowd can be expensive! However, there's no need to stress, I've got tips to help you stay on top of your party budget!

Feeding a Crowd On The Cheap
Here are the steps to plan a successful party. I'll expand on each one as you scroll down.
Plan Your Menu
Shop for your Party
Must-Haves for your Party
Think about Drinks
Cheap Party Food Ideas – I have a huge list of party food ideas that you can use as a resource.

PLAN YOUR MENU
Here are some things to look at when planning your menu
How Many People Are Attending?
Take into account how many people you want to invite then plan your menu according. It would be expensive to plan a steak dinner for 30 people. However, for a party of 4 or 6 a nice steak dinner would be lovely.
This is a great resource for finding out how much to make per person you will be serving.
Always ask for an RSVP by a certain date so you can get an accurate number. Doing it via text, facebook, or email will get you the most results. People will not call to RSVP!
What Time Is Your Party?
Time of day is the main factor for determining what kind of party food you should plan to serve and how much. Do not plan a 12:30 pm shower then serve just a few finger foods or desserts to eat. If your party is at a traditional mealtime, you need to serve a full meal and for between traditional meal times, you can serve light snacks.
If your party goes from 9:30-11am, that would mostly fall under the "light snacks" rule. A later party from 6pm-8pm, mostly falls under the "full dinner" rule. If your party is from 1pm-3pm, that mostly falls under "light lunch" rule. Understand?
As well, people will eat and drink more at night than during the day, so plan accordingly.
Variety and quantity
The more variety you have the less everyone will eat of each. But, if you have only three or four items, the more of each serving you need to plan for.
What Is Your Budget?
Setting a budget is key. Decide before you start planning what you are willing to spend and base your time, number of invites, and menu around it.
It can be easy to throw a party and not break the bank. Potlucks, pasta or hamburger parties all can be done cheaply. Asking guests to BYOB can save you a ton of money.
Age of Attendees, Seating, and Food
Avoid red punch and red wine if children will be at your party. As well, consider an outside party if children are coming.
If the party is a stand-up soiree, finger foods are best. If you have seating for everyone, soups, salads, or foods that need a knife to cut are fine.
Consider a menu that everyone will enjoy from little kids to seniors.
Consider the Occasion?
For a baby shower, consider a lighter menu of finger sandwiches and salads. For a game day party, think of heartier foods like burgers or ribs.
Pair the food with the occasion and attendees.
Time of year
Consider the time of year and weather. Baked potato bars, soup bars, and pasta bars are perfect for winter months. Taco and salad bars, as well as barbecue and burgers, are perfect for Spring and Summer. Potlucks are great all year.

Cheap and Easy Party Food and Tips – SHOP FOR FOOD
Quick tips for keeping your grocery bill down when shopping for a party:
Stock Up!
Watch for sales! Stock up on paper plates, napkins, drinks, and other pantry items.
Use What You Have
When it comes to food and decorations, you'll save a ton of money using what you already have.
Before running to the store, check your fridge, freezer, and pantry.
Cut limbs and flowers from your yard.
Plan Your Menu Around Sales
Watch for sales and stock up on sale items. This will save you a lot!
Buy in Bulk
Buy in bulk when possible. Buying in large quantities from Costco and Sam's when save you tons when cooking for a crowd.

Cheap and Easy Party Food and Tips
– MUST-HAVES
The little extra, special touches make the party unique. These touches don't have to be expensive, simply put some thought into your party.
Here are some ideas to get you started:
Pick a Color Scheme
Incorporate one or two colors here and there to tie your party together. Adding a pop of color can bring your gathering to the next level. Think about adding a pop of color in decorative pieces, invitations, food labels, napkins, table cloth, and candles.
The craft store is a gold mine of inexpensive items. Place different sheets in coordinating colors of 12×12 scrapbook paper under some of the dishes. You can also use tissue paper and wrapping paper to decorate the table and you can use the paper for future projects!
Statement Napkins
Fun napkins are an inexpensive way to dress up a gathering. Look how fun this set, this set, and this set are. You can even get pre-rolled napkin and utensils!
Serving Warmers
A slow cooker is always a must when serving a crowd. Asl well, you can cook and serve slow cooker which cuts down on mess and cleanup!
Electric serving warmers are perfect for food made in advance and want to keep warm. They are affordable, look nice, and saves space.
Stylish Table Cloth or Runner
Tables clothes and runners are an easy way to bring color to your party while protecting your furniture. I look at dollar stores and discount stores (TJMaxx) throughout the year for clearance items. As well, this is an investment that you can use over and over or toss them quilt-free.
You can also use raw pieces of material (turn or tape the edge) and wrapping paper (as a disposable runner)!
Signs and Food Labels
You can easily print place cards or food labels on Word or purchase reusable place/name cards here or here.
Consider labeling foods with nuts, etc for those prone to allergies.
I have used this hanging chalkboard on my front door so people don't feel like they have to knock and wait for an answer. It also lets first-timers know they're at the right house!
Use What You Have
Baby food jars and mason jars are great for entertaining. They're versatile and inexpensive.
Serving Platters, Plates, and Dishes
Cake/cupcake stands, and tiered stands (like this and this), and lazy susans are great space-saving tools.
The dishes you use to display your food can really make a statement at a gathering. Thrift stores, dollar store, Target, Walmart are great places to find inexpensive platters and dishes.
Storage Tools
Picnic caddies are great space-saving items.
Folding tables are another great item to invest in. You'll use it for every party. A center folding table is a space-saving when it comes to storing it.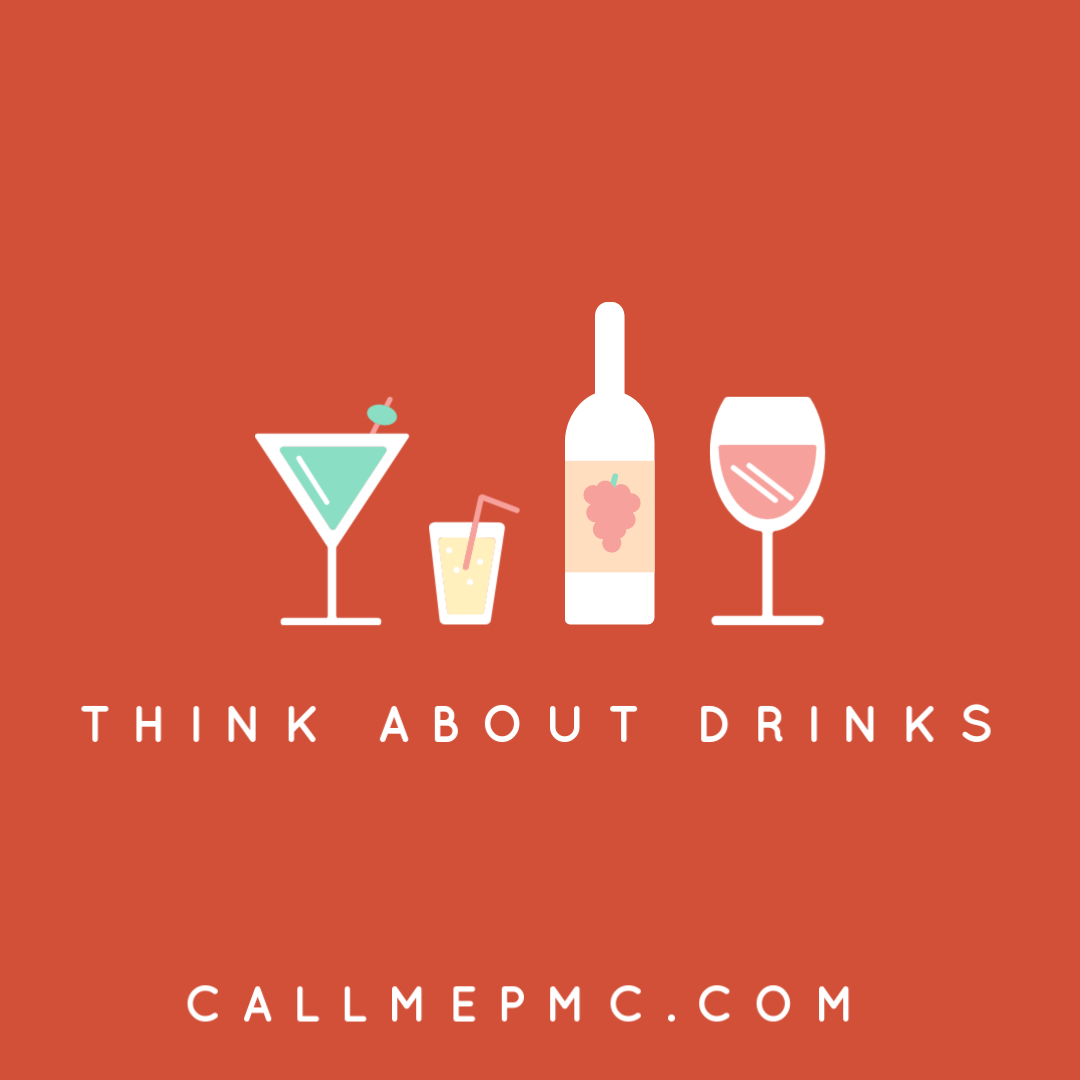 Think about Drinks!
Ideas for serving water at a party
You can dress up water for your party instead of buying expensive sodas or other drinks. Slice fruit to add to it for flavored water. Serve your water in a cute dispenser.
Ice cube molds are another to inexpensively dress up drinks. They come in a large variety like these skulls, diamonds, and spears.
You can also freeze fruit or freeze fruit or edible flowers in ice cubes to dress up water or other drinks.
Tips for drinks
Keep your eye on soda or other drinks all year and stock up when it goes on sale.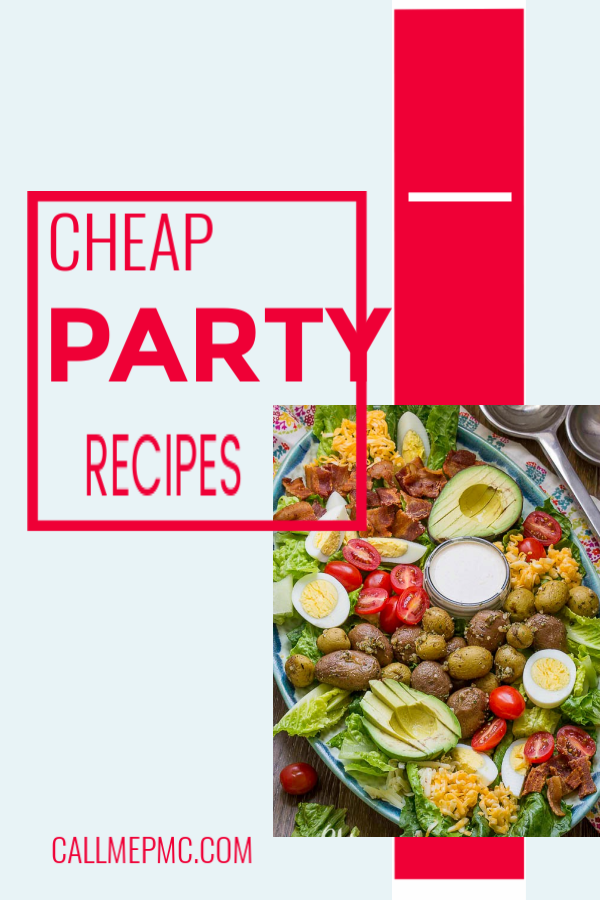 CHEAP AND EASY PARTY FOOD AND TIPS
What do I serve at my party? Remember…even the cheapest foods can be delicious and a crowd-pleaser. Here are some examples of great menus that I use to feed a crowd on the cheap:
Healthier Party Food Ideas
Dinner Party Food Ideas
These are classic foods that people love. They can be cheap and work for lunch or dinner. Most tacos, burgers, and soups are cheap foods to have at a party.
Brunch Party Food Ideas
You can make a lot of brunch foods for cheap. And, people to love tend to love breakfast foods.
Snack Party Food Ideas
There are really fun snack ideas for a party. However, beware! Appetizers/snacks can be expensive so plan wisely. Here are just a few ideas for your snack party.
Dessert Party Food Ideas
Great for late-night get together's. Provide drinks and a few main desserts, as your guests to bring a dessert to share. Toss in a veggie tray for the healthy eaters.
Cheap and Easy Party Food and Tips – I hope you have all the tools you need to have a lot of fun parties this year on the cheap! Remember, even the cheapest and simplest meals can make for an unforgettable party with a little creativity.
You can also find great recipes here or at Meal Plan Monday or Weeken